Background
I've made no secret of the fact that I think Mi Querida is one of the finest cigars to issue forth from Nicaragua in the past few years. It's spicy, sweet, earthy and wonderful with its beautifully ugly Connecticut Broadleaf wrapper leaf. But I'll admit to having gotten stuck in a rut of smoking the same Fino Largo size almost every time…except with the Pequeño Pequeños are in stock…those are amazing, too.
When Dunbarton Tobacco & Trust's founder came to town a few months ago, he led a seminar talking about his blends and the business in general. One thing he mentioned was that most blends tend to get milder as the ring gauge is increased. Knowing that, he decided to make a large ring size of Mi Querida that would be the strongest and most full-bodied expression of the blend…and he called it Mas Sucia. This "more dirty" version of Mi Querida weighs in at an impressive 7" x 64 ring gauge. It's way outside my comfort zone of 50 ring gauge or below cigars but I figured I had to try it…for science!
On the other end of the spectrum, he created a version of Mi Querida that was the same ring gauge as Fino Largo, but two inches shorter (so 4″ x 48). Gordita may sound like a Taco Bell menu item…and it's only "fat" when viewed in the context of the size of the cigar…but it does sound right up my alley.
Notes
Mas Sucia is just a monster of a cigar. I lit it up on a Saturday while I was working at Burns Downtown. I had about 2 hours of work time left and I figured it should take me through to the end of my shift and that's about it.
It lit up with tons of earthiness and a good amount of balance in terms of sweet Broadleaf flavor. There was a decent amount of pepper spice, but it didn't seem as hot as my regular vitolas.
An hour later I was enjoying the cigar still. I've had few 60+ ring cigars that retain enjoyability for long periods of time and this was definitely in the top percentile.
An hour after that, though, I was beginning to wonder if the cigar would ever be over. I kept puffing away and after more than two hours I estimated that I had 30 to 45 minutes left. I was marveling at how much smoke there really was.
After more than three hours, I still had close to an inch of cigar left…and I had to give up. It was still good, but I was hopelessly bored. Cigar ADD, I guess…even though I enjoyed the Mas Sucia from beginning to (almost) end, I would have rather smoked a shorter one, then lit up something completely different.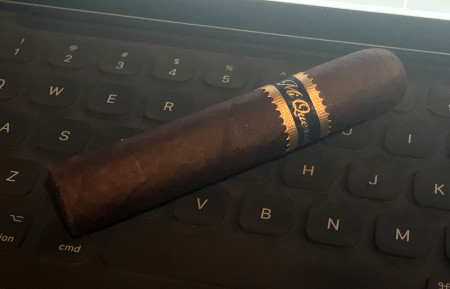 On to the Gordita…from the first puff, I knew this is where I belonged. This vitola starts right up with rip-roaring pepper spice, earth, cedar and semi-sweet chocolate. It's this kind of flavor profile that made me fall in love with Broadleaf…and Mi Querida…in the first place.
The Gordita burned along fairly quickly, which made me a little sad…it would be over too soon! Though what it really told me is that if you have an hour, choose the Fino Largo…if you have 30 to 40 minutes, go for the Gordita! Hey…I'm all about having some options!
In the final analysis, Gordita is the vitola that I'm going to be burning whenever I can get my hands on them (we sold out already…need more!), while the Mas Sucia will be the vitola I smoke when I feel like I need a marathon of a cigar that will last hours and hours and hours. They are both great tasting smokes, but with my propensity to get bored smoking the same thing very long, I will honestly say that Mas Sucia will be a once or twice a year type of cigar.