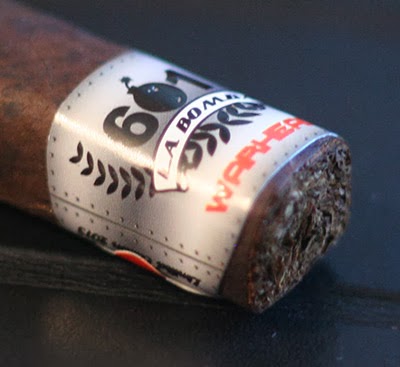 Originally published at Tiki Bar Online.
Toro (Box-Pressed), 6.5" x 54 ring gauge / $11.05, Burns Tobacconist
The 601 lines started as a EO Cigars product about 5 years or so ago, a joint venture of Erik Espinosa and Eddie Ortega and made in the My Father Cigar factory. Through the years, the banding on the lines have changed (twice? three times?), distribution has changed (for a while Rocky Patel Cigars was distributing), the company behind them has changed (Erik and Eddie are still friends but no longer work together), and the factory where they are made has changed (Erik opened his own Estelí, Nicaragua production facility last year: La Zona). In the middle of all this, Espinosa and the folks at La Zona had time to plan a new Limited Edition blend for the 601 La Bomba series: Warhead. As with the other 601s, Warhead has Nicaraguan filler and binder. The secret ingredient for this Maduro cigar, though, is a Connecticut Broadleaf wrapper. As I mentioned, this is a limited edition and only 2,000 boxes of 10 were produced…a total of 20,000 cigars…so not "super limited" but still…if you like them, horde them. This review sample is my second 601 Warhead and I bought both at Burns Tobacconist.
Espinosa Cigars played with the logo used on the 601 La Bomba (a bomb with fuse taking the place of the "0" in 601, surrounded by a wreath), by placing it on a band that is shaped like a World War II-era bomb, complete with painted-on shark face and "Kilroy was here" graffiti. Having fun with packaging is always welcome, and, of course, they continue to have fun with the "bomb" theme by having a long pigtail reminiscent of a fuse. I would advised not lighting it, though, as it would set the wrong end of the cigar on fire. The wrapper was dark chocolate in color, rough and rustic in appearance. It was oily under the fingers and had a rich, sweet earthiness on the nose. The foot gave up notes of chocolate and coffee along with more earth. After carefully removing the fuse (it was lightly glued to the body of the cigar, then clipping the cap, I got a cold draw that had a very sweet chocolately flavor, along with minor notes of coffee and red pepper.
I used a single flame torch to light up the 601 Warhead, and while it did take a little effort, I got it going evenly without spending too much time. Initially, I got a strong earthiness and espresso flavor right up front, while the retrohale had a massive red pepper component, threatening to sear my nose right off my skull. That only lasted for a couple puffs, really, then the spice toned down a bit to a more comfortable burn. The sweet flavor of raisins and some cocoa powder started coming through shortly as well. The body started off in the medium-to-full range.
In the second third, I continued to get plentiful cocoa powder and bittersweet chocolate flavors, along with a diminished red pepper and hints of espresso. Construction was very good; the ash was solid and the draw was very good. The burn line was fairly typical of Broadleaf, in that it was wavy and needed to be touched up a few times.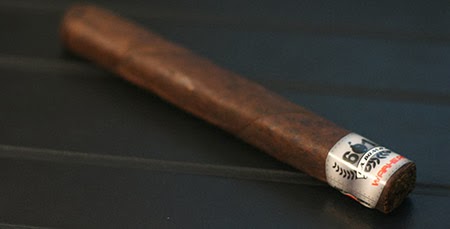 The final third of the Warhead had loads of earthiness while the chocolate flavors receded a bit. The pepper was virtually non-existent by the end. In the end, this was a very good cigar that I wouldn't mind experiencing over and over. It displayed the wonderful properties of a Broadleaf wrapper blend but never got too full bodied or too strong. Needless to say, if you are a fan of Broadleaf, you should definitely give this a try. The price is a little high, but it is a limited edition so that's something that has to be factored in.
Body: 8/10
Strength: 7/10
Complexity: 7/10
AFP Scale
Prelight: 2/2
Construction: 2/2
Flavor: 4.5/5
Value: 1/1
Total: 9.5/10