Vitola: Nestor IV (Toro)
6.25" x 54 ring gauge 
~$20
Sample provided by Plasencia Cigars
Background
I was visited while I worked at Burns one evening not too long ago. Javier Carranza, the national sales director for Plasencia Cigars, came in to tell us a little about their brand and let me smoke one of their cigars. I had seen the Alma Fuerte at Corona Cigar Company in Orlando when we were there in May, but having heard very little about it and seeing that it was around $20 a stick, I decided to pass. This may be a spoiler for the rest of this review…but I'm sorry I did.
The Plasencia family has been in the tobacco business for over 150 years, since Don Eduardo Placencia started growing leaf in Vuelta Abajo, Cuba. They grew the company in Cuba until 1963 when the Castro government took the farms. Don Elder Sixto Plasencia and his family fled to Mexico, later relocating in Nicaragua, where he started the business all over again. The family had to flee another Communist regime in 1978 when the Sandinistas burned the Nicaraguan farms. It was in Honduras in 1986, that fourth generation grower, Néstor Plasencia, entered the cigar business, making over 1 million cigars a year for other companies. When they moved back to Nicaragua in 1990, they were able to increase production to 33 million a year and by 2000 they were producing sticks for 30 different brands.
All that time growing tobacco and manufacturing for other companies, the family learned something…and they apparently held back some prize leaf for themselves. In 2017, the fifth generation—Néstor Andrés, Gustavo, and José Luis Plasencia—launched Plasencia Cigars.
After I smoked the Alma Fuerte and loved it, Javier gave me another of those for review, along with samples of several of their other blends, all of which have launched in the past few months. Alma Fuerte is Spanish for "strong soul" and has the mission to reveal the strong soul of Nicaraguan tobacco. The blend is all Nicaraguan, mostly Criollo '98, but grown in Estelí, Condega, Jalapa, and Ometepe; the wrapper is from Jalapa.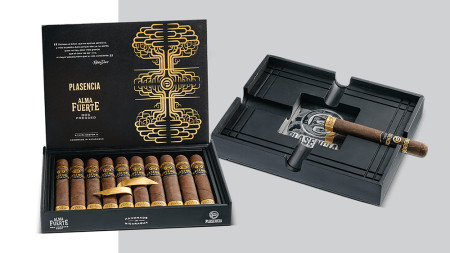 Prelight
The Alma Fuerte has a rich appearance in terms of box and band. The box lid actually comes completely off to turn into a fully functional ashtray. Don't be surprised to see Plasencia ashtrays in use at shops that carry the brand. If you buy the whole box yourself, you get to keep the ashtray. Bonus! The bands are heavy-weight paper with black ink, gold foil and embossing. Always good to see expensive cigars with "expensive-looking" packaging.
The wrapper was a dark chocolate brown with a slightly reddish tinge to it. It was oily to the touch and mostly woody to the nose, though some notes of leather and earth came through, as well. The foot of the cigar was earthy with touches of semi-sweet cocoa and pepper.
The cold draw was excellent and tasted mostly of earth and cedar, though there was a slight sweetness, along with floral and spicy notes.
Flavor
The Alma Fuerte opened with plentiful cedar flavors on the palate, along with a very peppery retrohale. The first thing I noted that indicated how complex this cigar might be is the extended sweet and floral finish while the pepper gradually died down. The first time I smoked this it took me about 3 or 4 puffs to really "get it"…that this isn't just another Nicaraguan puro. That was about all it took to remind me of that fact this time. There were notes of black coffee and semi-sweet chocolate, leather and pepper. Even with the pepper, the smoke was smooth and creamy, exuding a refinement that was surprising.
The great complexity continued into the second third, with leathery notes taking the fore and earth, cedar and unsweetened cocoa powder playing a more supporting role. Dark fruit and pepper were strictly tertiary notes and the smoke continued to be creamy and thick, the body medium-to-full.
Earthy notes came back to the front in the last third, followed closely by more cedar, then leather, espresso bean and cocoa powder. The pepper spice continued to be a low-level burn on the palate.
Construction
I had a great draw, very even burn line and solid ash for up to an inch.
Value
There's no denying that this cigar is pricey, but if you consider that it plays in the same ballpark as a Davidoff Nicaragua or Padron 1926 Serie, you'll find it's really not overpriced.
Conclusions
Some have opined that Plasencia's entry into the premium cigar field with their own brand is long-overdue. If getting the Alma Fuerte just right was what they were waiting for, though, then I would say it was time well spent. This Nicaraguan puro is just fantastic, standing up very well against other "super premium" offerings. I would position this right between the aforementioned Davidoff Nicaragua and Padron 1926 Maduro in terms of body, richness, and overall experience. It was medium-to-full in body and strength, constantly delivering a stream of complex and beautiful flavor notes, really showing off what the Plasencia family has been growing in the Central American nation all these years. I say: spend the money, you won't be sorry.
By-The-Numbers
Prelight: 2/2
Construction: 2/2
Flavor: 4.5/5
Value: 1/1
Total: 9.5/10