Vitola: Filerokee
4.5" x 52 / 45 ring gauge (perfecto) 
$13.49
Purchased at Burns Tobacconist
Background
It's been almost a month now since I heard the official word that Matt Booth, and therefore the Room101 Brand, would be leaving the cigar industry. It was a sad, but not unexpected, day. I had heard the rumors about such a move for several months, including the rumors that he was talking to other companies about the continuation of his brand's distribution. In the end it didn't work out and he has opted to leave the biz. While the business has changed since he got into it, I would say that he has actually changed more. When I met Booth, he was a wild man who had a reputation for out-lasting anyone at the bar and getting pretty nuts when he had too many Jaegermeisters; now he's a dad who has settled down tremendously and is taking his jewelry business very seriously. Either way, Matt is a good man that I am proud to call friend and I do wish him the best going forward.
So it seems I picked a strange time to turn my attention to a review of the latest Room101 cigar release: Chief Cool Arrow. The way things have turned out, it's probably the last Room101 cigar release. It was announced as the second installment of the Artists Collection back at the 2016 IPCPR show where Matt Booth is quoted as saying, "Raider of the sacred leaf, Chief Cool Arrow doesn't care what you call him, as long as you call him." I am going to call him an "asshole" since that's what the name means…yeah, you really need to keep Urban Dictionary open when you review a Matt Booth cigar. "Cool Arrow" is a corruption of "culero" which is Spanish for "asshole." The size name was originally "filero" which is Spanish slang for "shiv" or "shank." Because of the American Indian connection, the name is changed to Filerokee in this instance.
The Chief Cool Arrow was produced in 3 sizes, all of them figurados of some sort. It uses a Mexican Ligero wrapper leaf, Camacho's original Honduran Corojo binder, and Pennsylvania Ligero, Esteli Ligero, and Piloto Cubano Seco for the fillers. I have smoked one Chief Cool Arrow (CCA) before this review stick. I bought both of them at Burns Tobacconist. Some of my background info was taken from Cigar-Coop's news story on the cigar's release. Anything you hear about "the Artist Collection #3 was going to be named 'Major Mary Cohn'" is just a rumor…I should know…I started it.
Prelight
No matter what else you have to say about Room101 cigars, you really do have to give Booth and company props for improving the packaging and display of the sticks from the early days of the brand. These use a dark box with metallic teal accents, repeating the same basic look on the paper wrapping and actual cigar band inside. It's a mostly simple look that does succeed as "art" while being elegant and attractive…all while trying to trick people into saying dirty words in Spanish.
The cigar's wrapper leaf was a milk chocolate brown color with a semi-rough texture under my fingertips and an aroma that mixed cocoa powder, earth and espresso bean. As is the case with many perfectos, the foot of this stick didn't really have much aroma, because it narrows down to about a 24 ring gauge where you light it.
After clipping, I got a better cold draw than I expected. Usually this shape of cigar has a lousy cold draw and it doesn't mean anything because once the fire reduces the initial nipple end to ash, it all draws fine. The cold flavors were of tea, earth, semisweet chocolate, and a touch of wood.
Flavor
One benefit of this shape is the ease of lighting the cigar up. I applied a very small amount of flame to the tip and quickly had it burning. The evenness of the burn would be something I couldn't really speak to until a few minutes had gone by, though. First flavors from the burning leaf were of dark earth and coffee bean, along with a mildly sweet middle with touches of cedar and black pepper on the finish. The retrohale had a stronger pepper component as well as wood and roasted nut notes. The first third continued on full-bodied and earthy through the widest portion of the cigar.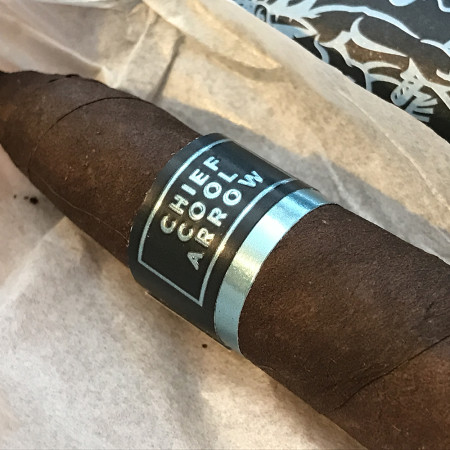 During the second third, more of the bittersweet chocolate note became evident, eclipsing the earth and coffee notes, and the pepper spice got a bit stronger on the palate.
The last third actually mellowed out a bit, backing off the body from a straight up "full" to a more "medium to full" place. There was a great mix of sweeter chocolate notes with earth and coffee, while the spice backed off a bit again.
Construction
Build quality was excellent on this cigar: great draw, very even burn line with no touch-ups needed, and an ash as solid as concrete.
Value
The price tag is a bit high, but not by much, especially when you consider the limited production nature of the cigar and the specialty shape that is harder to roll. With those factored in, I call it worth the price.
Conclusions
Chief Cool Arrow may just be the best Room101 cigar to ever hit the market. Which is ironic since it's probably the last one, as well. It was a great full-bodied cigar with more complexity than I have encountered in a Room101 before and was definitely worth the slightly elevated price tag. Enjoy these while you can…some day they will just be a memory…in this case, a good one.
By-The-Numbers
Prelight: 2/2
Construction: 2/2
Flavor: 4.5/5
Value: 1/1
Total: 9.5/10