Vitola: Toro
6" x 52 ring gauge 
$35.99
Purchased at Burns Tobacconist
Background
In August and September, I reviewed the first two installments in Davidoff's Master Selection series…at least, the first two installments that were shipped to Davidoff Appointed Retailers…I still haven't been able to get my way to a Davidoff "Flagship Store" to pick up the Master Selection installments that are reserved for them. Long story short: Davidoff's Master Blender, Eladio Diaz, creates a special "birthday cigar" for himself every year. These have a reputation for excellence that has made them some of the most sought-after cigars in the world by those who know about them. Now they are being released to the world in limited quantities. I previously reviewed the 2013 (loved it) and 2010 (thought very highly of it, though didn't like it as much as the 2013).
The Master Selection 2007 is described as "A beautiful cigar blended with exquisite Dominican tobaccos providing a deep and complex taste stimulation." It certainly does bring a lot of Dominican leaf to the table: San Vicente Mejorado Visus, San Vicente Ligero, Piloto Seco, and Hybrid Corojo/Olor Ligero in the filler, as well as a Hybrid Olor Piloto binder. This is all wrapped in an Ecuadorian Habano wrapper.
I bought two samples of the Master Selection 2007 at Burns Tobacconist, where I work. We have them available there, and our site sponsor, Small Batch, has them available to ship, as well.
Prelight
Visually, the 2007 Master Selection is virtually indistinguishable from the 2010 and 2013 releases. Same plain wooden box with hand-numbering of the limited release…same regular Davidoff White Label, accompanied by a secondary band that denotes it as "The Master Selection 2007" and features Eladio Diaz's signature on the side.
The wrapper leaf was a milk chocolate brown color with little variation in color. The leaf was oily and slightly lumpy; it smelled a little barnyardy with notes of wood and hay in play, as well. The foot of the cigar had less aroma than the wrapper, which is unusual in my experience. I picked up some fairly subdued hay and natural tobacco notes.
I clipped the end with my favorite Xikar straight cutter and got a very good draw when testing it. The cold flavors were of sweet hay and cedar, along with minor touches of earth and pepper spice.
Flavor
I took my time firing the foot of the Master Selection 2007 before taking the first puff. That first puff had sweet, chewy, nutty flavors up front, backed up by some earthy and grassy flavors, along with notes of pepper, cedar and a little cinnamon on the finish. The retrohale was nutty and peppery. The first third continued with bread, nuts and sweet hay playing major roles. Baking spice, pepper, and wood notes darted in and out of the profile.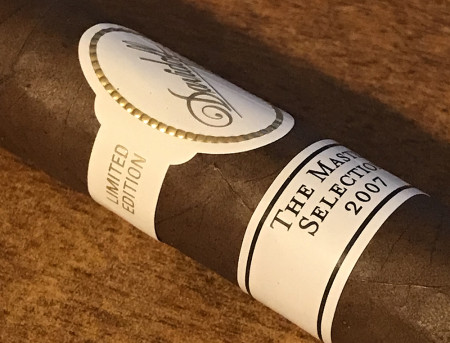 The second third continued with the same flavors playing a massively complex symphony of flavors, wrapped up in a thick, oily medium-to-full-bodied smoke.
In the last third, the Master Selection 2007 took on an earthier aspect overall, with the Davidoff Olor mushroomy funk finally coming through along with a substantial increase in pepper spice on the palate.
Construction
Construction was immaculate, as is expected. I had a great draw, very even burn line and ash that held on for an inch or so at a time. I also had to set the cigar down without puffing for 5 minutes or so; when I came back I found it still burning. That's a testament to how well these are rolled.
Value
An ultra-rare, limited-edition cigar made to the most exacting standards in the world…yet, it's still among the most expensive cigars in most shops. And worth it.
Conclusions
I glanced at someone else's review before writing my own and I have to concur…the 2013 edition set a very high bar for this series and the 2010 was a bit of a let-down on the heels of it, but the 2007 comes roaring in as a fantastic concluding chapter that highlights just how complex and amazing Dominican leaf can be in the right hands. Eladio Diaz really knows how to celebrate a birthday! Now I will turn my sights toward getting into a Davidoff flagship store and picking up their exclusive releases of this series to see how the other half live.
By-The-Numbers
Prelight: 2/2
Construction: 2/2
Flavor: 4.5/5
Value: 1/1
Total: 9.5/10