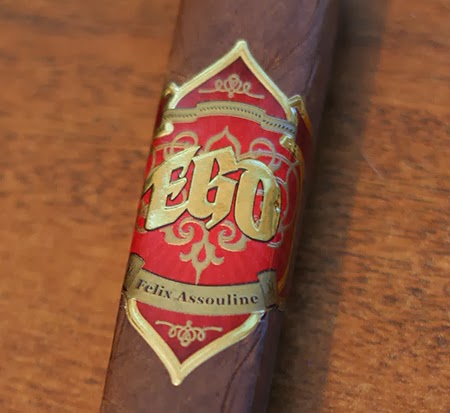 Originally published at Tiki Bar Online.
Perfect, 5" x 52 ring gauge / MSRP $7.50
I heard from Michel Malek, Executive Vice President of Felix Assouline Cigars, in early October. He asked if I would like to try out their new lines of cigars that had debuted at this year's IPCPR show and possibly review them. We went back and forth a bit and he ended up sending me 2 of each blend in a size that was at least close to what I would normally buy (I buy lots of Coronas and Corona Gordas, as well as quite a few Lanceros; I see Robustos as one of the best sizes for evaluation purposes and it's also just about the largest size I normally would buy).
With Felix Assouline being a new name to me, I looked up their website to find out some additional information. Felix started a retail store in Dania Beach, Florida, in 1997. it was successful enough to grow into 3 additional stores over 6 years, during which time he also ran a successful wholesale cigar business. He opened a factory in Danli, Honduras in 2004 and introduced 2 brands, one of which was the original EGO. A few years later, he decided to sell it all and focus on family for a while. It's hard to stay out of the business for long, it would seem, because by 2012 he was in Nicaragua looking for his next step. It would come in the form of Juan "Papito" Gómez–Cuban by birth and a disciple of cigar legend, Alejandro Robaina. It's a great story and you can get all the details on their website.
One of the other unique aspects of Felix Assouline Cigars is that they are "the first company to produce 99% of their cigars Box-Pressed." The belief here is that pressing the cigars fuses the flavors of the various leaves together. I don't think I've ever heard that explanation before, but given that box-pressed vitolas often do vary quite a bit in specific blends, it does sound reasonable. I have noticed that box-pressing does tend to give a better draw in most instances, as well. I will be looking at one of the Felix Assouline blends each week this month, starting today with the revamped EGO. The EGO is made with Jalapa (Nicaragua) and Jamastran (Honduras) fillers, an Indonesian binder, and a Habano 98 wrapper. It is available in 7 different vitolas, including the Perfect which I am reviewing. As stated before, all samples came from the company and I thank Mr. Malek for this opportunity.
There is an almost Asian or Indian look to the band of the EGO, with it's fluted spires and intricate ornamental designs. The deep reds of the background go well with the striking gold foil. The cigar itself is a box-pressed perfecto, which is a very unusual shape. Imagine a Fuente Hemingway Work of Art box-pressed and you will almost have it; the difference being that this cigar doesn't taper toward the head. The wrapper was smooth and slightly oily under my fingers, with only the slightest of veins in evidence. Bringing cigar to nose, I mostly got sweet hay aromas from the leaf. Being a perfecto, the foot was hard to get much from, but what I got was mildly earthy. After clipping the head, the cold draw was very good, exhibiting flavors of cedar, hay, and semi-sweet chocolate.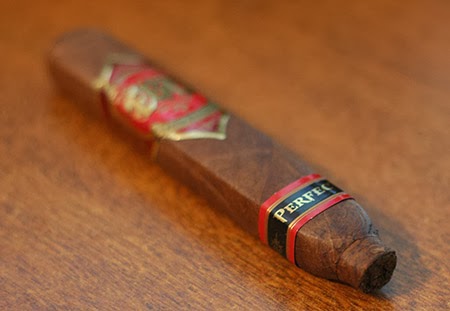 The good and bad about perfectos: easy to light up, but the draw typically sucks for the first few minutes. On lighting the EGO had mostly earthy notes, but once it got past the tip, the flavor opened up into a much more cedar area. I also detected an underlying sweetness and got a nice pepper kick in the nose when I retrohaled. The pepper settled down pretty quickly into a nice background burn and I started to get a bit of a coffee note before the first third was through.
As the cigar burned on, the pepper burn increased a bit and I picked up a citrusy zing as well. The second third also featured more subtle earth, cedar and coffee notes. Construction was great so far; I experienced a perfect draw, a very solid ash and extremely even burn line with no touch ups.
In the end, sweet and spicy was the name of the game with the EGO as the citrus, hay and pepper spice continued to play a nice balancing act through the final third. I thoroughly enjoyed this smoke. If you liked the original EGO, I can't say if you'll like this one or not, since I cannot remember ever having one, but if you enjoy a good medium-to-full bodied cigar with lots of flavor and a good pepper burn, you might just find this right up your alley. The nice price makes it easy to recommend to just about anyone to at least give it a try and see what you think.
Body: 7/10
Strength: 5/10
Complexity: 7/10
AFP Scale
Prelight: 2/2
Construction: 2/2
Flavor: 4.5/5
Value: 1/1
Total: 9.5/10