Vitola: Toro Deluxe
6.75" x 54 ring gauge
MSRP $35.00
Purchased at Maxamar Ultimate Cigar
Background
In addition to the annual My Father Limited Edition release, in early 2016 word came out that My Father was releasing their most expensive cigar yet, an ongoing (but very limited) production stick called Garcia y Garcia. This new blend's name refers to the collaborative work of company founder, Jose "Don Pepin" Garcia, and his son, Jaime Garcia. After escaping Cuba, Don Pepin helped establish Pete Johnson's Tatuaje brand, then made his own name by producing the Blue Label (now called "Original"), Cuban Classic and Serie JJ blends. Jaime worked in secret to blend a cigar dedicated to his father, Pepin, and called the blend "My Father," which later became the name of the company. Pepin was inspired by the actions of his son and blended a cigar in honor of his own father, calling it "Le Bijou 1922" ("the jewel of 1922").
So now father and son are working together to create Garcia y Garcia. The blend uses Nicaraguan fillers (including Pelo de Oro), a Nicaraguan Criollo 98 binder, and an Ecuadorian Habano Rosado wrapper. Pelo de Oro is originally a Cuban seed, but because it is prone to disease it isn't grown much in any country (I believe I heard that Cuba banned it's use, actually). The use of Pelo de Oro is said to greatly affect the price of this stick.
Admission time: when I heard about this cigar's availability, I argued against bringing it into the shop I work at…I have had only a handful of cigars worth $30 or more, regardless of how much they are actually selling for. Also, while I love many blends coming out of the My Father factory, none of them had approached the level of refinement and flavor that would justify this kind of price tag. So I go into this review with a very large question looming: will smoking this cigar change my mind? I'm always willing to be surprised and I'd love for this stick to alter my perceptions.
I bought this cigar at Maxamar when I was visiting California in October. This review is based on my first smoking of the blend. I took some background info about the cigar from Cigar-Coop's review.
Prelight
The regular My Father band is the basis for this new release, but they have heavily revised it with additional ornamentation and making it much larger, rather than having it a two piece band like the Le Bijou 1922 and Limited Edition releases. It does look very good and the giant "Garcia & Garcia" type makes it immediately identifiable. There are various images on the band, including a photo of father and son in the factory. The cigar is finished with a ribbon on the foot that is almost the color of faded burgundy wine stains.
The wrapper leaf was a milk chocolate brown that sort of defied the description as Rosado…but I've learned that "Rosado" comes in many different colorations, so I'll just take the description as a given. It was oily and smooth under my fingertips, smelling of earth and leather and bell pepper. The foot had a slightly richer earthiness, with woody overtones to it.
After using my favorite Xikar Xi cutter to apply a straight cut to the cap, I got an excellent draw that tasted of cedar and sweet earth, with just a touch of hay.
Flavor
I lit up the Garcia y Garcia and found the immediate flavors to be nicely refined. There were the fairly typical Nicaraguan earth notes, but they were more mellow and smooth than you would normally encounter. I got a strong, but not overbearing, cedar flavor and a touch of pepper spice on the palate next, and the finish had some lingering cedar and spice. The retrohale was nutty and cedary, with just enough red pepper to let you know it was there, but it became a memory very quickly. The blend had a delicate sweetness that came and went; I recognized it from other cigars I've had using Pelo de Oro. The cigar burned slowly and steadily, smoothing out with a little less pepper and a bit more cedar as time went on.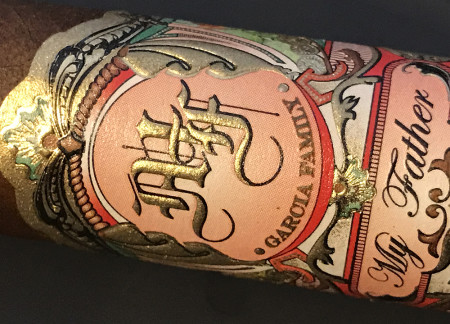 During the second third, I picked up on an increased sweetness in the mix…almost a honey note, but not quite. The dominant flavor was that of aged natural tobacco, with minor notes of earth and cedar. The pepper spice was a minor spike during the finish and the retrohale was woody and sweet.
The last third featured more sweet Pelo de Oro tobacco flavor, with supporting earth and cedar notes and a slight return of pepper on the palate.
Construction
As with most My Father products, construction was excellent. I had a great draw, very even burn line that needed few touch-ups, and a solid-as-concrete ash.
Value
This is tricky because of the really high price tag. This is probably the best My Father product I've had…even better than the annual Limited Editions…yet I wasn't convinced it was really worth $35+. At $28-30 I could see it, but I think the price point is just too inflated.
Conclusions
The My Father Garcia y Garcia is a delicious, refined cigar with a great flavor and enough complexity to keep from getting boring over the two hours or so that it takes to smoke it. With all that, though, I still think it costs too much. Sure, it may well be the most refined thing to ever come out of the My Father factory–and is definitely the best thing with the My Father name actually on it–but when you get to this price point you're competing with the best Davidoff Limited Editions and Padron 1926 Serie releases (specifically, the 80 Years Maduro) and I don't feel it quite measures up to that level. Now…if they did a version with a Connecticut Broadleaf wrapper, I might become a believer.
By-The-Numbers
Prelight: 2/2
Construction: 2/2
Flavor: 4.5/5
Value: .5/1
Total: 9/10