Vitola: Robusto Extra
5.5" x 52 ring gauge 
MSRP $15.95
Purchased at Burns Tobacconist
Background
Illusione Cigars released the Haut 10 in 2016 as the company celebrated its 10th anniversary. I didn't have a chance to get my hands on the blend until more recently when we brought it in to Burns as part of an effort to revitalize the brand in the shop.
Like other Illusione sticks, the Haut 10 is made in the TABSA (Casa Fernandez/Aganorsa) factory in Nicaragua. This Nicaraguan puro is said to be "seco dominant," smoking with a mild body and complex profile. It uses a Cafe Claro Corojo wrapper leaf along with Criollo 98 and Corojo 99 leaf used in the blend. Haut 10 is available in just the one size and comes in a 12-count box.
I smoked one Haut 10 before this review sample. I bought them both at Burns. Some of the background information above was taken from Cigar-Coop's story about the blend's introduction.
Prelight
Illusione has long had a tradition of simple, straight-sided bands with a fairly thin width. They started with white background and black type, before having some with gold type…some with red backgrounds…and other variations. This one is just a silver foil background, with a little black trim, "Illusione" in black, and "HAUT 10" in reverse-out white. It keeps with some Illusione traditions while creating something new. The cap is finished off with a flag, not totally unlike what you might see on a Dirty Rat.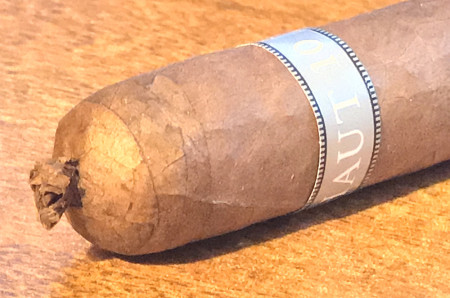 The wrapper leaf was a peanut butter brown color with a light oiliness under my fingertips and a bit of darker mottling. It had a woody and slightly earthy aroma to it, while the foot had a richer earthiness with a bit of a sweet chocolate aroma mixed in.
After clipping, the draw was good and tasted of earth, hay, dried berries and cocoa powder.
Flavor
Despite the declaration that this was supposed to be a "mild" cigar, I didn't find it that way at the very beginning. More like "mild for an Illusione" and in reality on the milder side of medium. I got plenty of wood notes at the outset, cedar and cinnamon most prevalently. There was some earth and a mild dried fruit sweetness, then a bit of red pepper on the palate toward the finish. The red pepper was much more prominent on the retrohale. The first third continued on in that vein: woody and a little peppery, with a nice, mild sweetness.
The second third continued on with medium-bodied notes of cedar up front with secondary notes of cinnamon and natural tobacco sweetness. The pepper died down a little bit, becoming more of a steady background burn.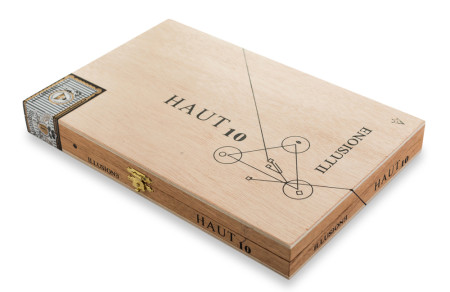 In the last third, the body bumped up to on fuller side of medium (though still staying in that medium range) and the flavor profile took on a bit more earth and leather while the cedar and cinnamon notes were toned way down. There was still some natural tobacco sweetness in the mix and just a little pepper.
Construction
I had a great draw, mostly even burn line and a solid ash.
Value
This cigar is a little pricey, but it is wonderful, so I'm going to say it's worth the extra money…on occasion.
Conclusions
The Haut 10 was a great way for Illusione to mark 10 years in the cigar business. Like the Epernay, it concentrates on complexity and balance over strength and body, providing an excellent, mellow smoking experience. While I still enjoy some of the Original Documents releases—like the MJ12 Maduro and hl—more, I thoroughly enjoyed this blend and will pick up a few from time to time.
Illusione Haut 10 is available from Leaf Enthusiast sponsors Small Batch Cigar and Pipes and Cigars.
By-The-Numbers
Prelight: 2/2
Construction: 2/2
Flavor: 4/5
Value: 1/1
Total: 9/10