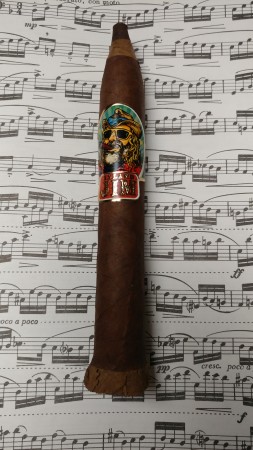 Cigar: Island Jim # Two
Size: 6.5 x 52 ("Pencil" Torpedo)
Wrapper: Oscuro Point, Connecticut strip after that, unknown after that
Binder: Not Disclosed
Filler: Not Disclosed
Price: $10.49 per cigar from Rodrigo Cigars
One of the tips concerning what my friends and I learned from our recent hang in Las Vegas was having enough forethought to bring our own cigars along for the trip. Depending on where you are getting your cigars in Las Vegas, the markup in price can get pretty ridiculous. One of the cigars that I brought along that somehow I did not get a chance to smoke was the Island Jim. I first learned about it via an email from Rodrigo Cigars. The cigar was made by Oscar Valladeres as a way to honor Jim Robinson of the Pittsburgh area Club Leaf and Bean back in 2013 for his Wild Bunch series he created. The two also collaborated on the popular Leaf By Oscar line, those being well investigated here at Leaf Enthusiast. While I have only smoked a handful of the Island Jims over the last year or so, I thought it would be a great one to bring along to share with the guys…only to find that we somehow didn't get a chance to smoke it. And since it was not smoked and I haven't had the opportunity to give it an official look, the Island Jim was more than willing to be a willing participant for review.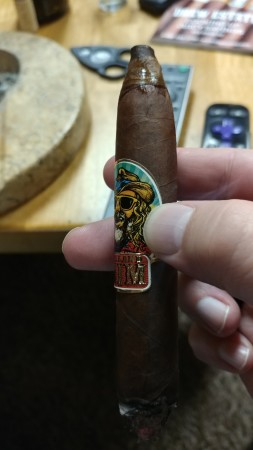 No construction issues on one Island Jim I kept for myself. It's definitely a very unique looking cigar. If the idea of a pencil with a very shaggy eraser at the end comes to mind by looking at the photo, you are not that far off. The pre-light aromas gave me faint wood while the cold draw (light cut on the first cap) gave me wood and cocoa. The light gave me a balanced draw and started me off with notes of wood, leather and mocha, with a sweetness that I can not exactly describe on the aftertaste. I would characterize the beginning of the cigar with this tip as medium to full bodied in strength. The strength and flavors more or less stayed as they were for almost 30 minutes as I began approaching the halfway point in the cigar. This is where I cut the rest of the tip off, going with the new Connecticut strip from here on out.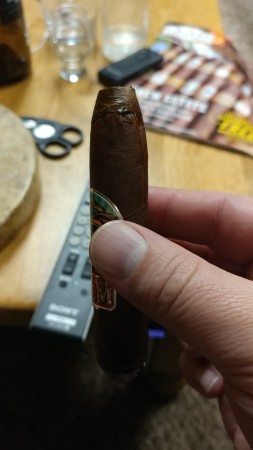 That cut changed the characteristics of the cigar quite a bit. While the wood flavor was still prevelant and the sweet aftertaste was the same, new notes of coffee and pepper were introduced. By the 45 minute mark, the Island Jim was well into the full bodied arena of strength. The final flavor notes that concluded the cigar were strong spice, wood and leathery notes. Total smoking time was 1:12, with my fingertips burning from smoking every inch and space I could from it.
No problems were encountered during the smoking of this cigar, other than my burnt fingertips. And I think for anyone out there who has smoked this cigar will understand. All and all, an excellent cigar from Oscar Valladeres.
By-The-Numbers
Prelight: 2/2
Construction: 2/2
Flavor: 4.5/5
Value: 1/1
Total: 9.5/10
To recap the Island Jim # Two:
A unique creation from Oscar Valladeres that more or less results in similar cigars in one. Lots of flavor from each cut makes the Island Jim a joy to smoke.
While I don't think the strength of the cigar is overpowering, because of the unique nature of the cigar, I probably wouldn't be giving this one out as gifts to my neophyte cigar-smoking friends.
The price right around $10 a stick (and you can probably find deals on them if you search enough), but it is just expensive enough to warrant smoking frequently (for me). Still, for what you end up with, it's a fine deal to be had.
I definitely need to remember to pick up more of these. My birthday is coming up next month if anyone needs any ideas =P
Thank you very much for reading. I look forward to the next time I can share my thoughts with you.