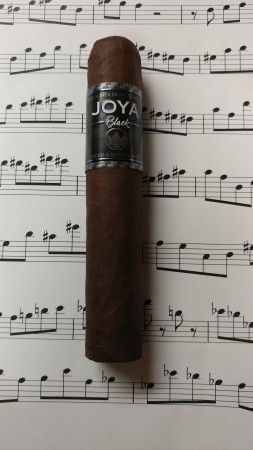 Cigar Review: Joya Black
Size: Double Robusto (Gordo – 5 x 56)
Wrapper: Mexican San Andres Negro
Binder: Nicaraguan
Filler: Nicaraguan
Price: $37.50 per five pack from Cigars International ($7.50 per cigar)
Samples were provided by Drew Estates, who distributes Joya de Nicaragua here in the United States
A couple weeks ago, I came home after a long and stressful work day and a busy but pleasant music rehearsal to my wife and oldest sitting outside enjoying a fire in our homemade fire pit. My oldest got to me first and explained that a package arrived for me. Not recalling any orders placed, I soon found the package inside the house and was welcomed with samples from Drew Estates (Last week's review of the Swamp Thang was among those that arrived). Needless to say, it was a welcome surprise that brought my spirits right up. Within the samples with a separate container containing the Joya Black.
Initially introduced at the 2016 IPCPR last July, the Joya Black is marketed as a "sophisticated and more complex smoking experience". Sounds exactly like my kind of cigar, but let's dig into it to find out for sure.
No construction issues were found on the cigar chosen for review. The Mexican San Andres Negro wrapper, with its slightly oily sheen and appearance, catches my eye first as a lover of maduro cigars. The pre-light aromas gave me heavy leather and tilled soil while the cold draw provided the palette with a simple taste of dried fruit. After a cut on the guillotine and a light, the Joya Black gave a balanced but slightly open draw with starting notes of burnt wood, leather, earth, black coffee, minor spice on the aftertaste. Despite the opening complexity, it was smooth and easy on the palette. Strength-wise, I would consider it just a shade over medium to start. Seven minutes into the cigar, the cigar mellowed slightly across the board. This mellowed character was short-lived as the leather notes began building in strength nine minutes later, followed by stronger spice notes 18 minutes later. And it was a couple minutes after this, it was well noticed that the strength had been steadily growing right into full bodied territory. Rich earth, coffee and cocoa notes finished out the cigar in full bodied fashion. Total smoking time was 1:27.
Besides one minor burn correction, I encountered no problems with the Joya Black.
By-The-Numbers
Prelight: 2/2
Construction: 2/2
Flavor: 4.5/5
Value: 1/1
Total: 9.5/10
To recap the Joya Black:
I haven't smoked many Joya de Nicaragua cigars in the last year or two, but this particular cigar brings their company back to the forefont. For full bodied cigar cigars, you'll want to try this. I think it is safe to say that the marketing on this cigar is accurate ("sophisticated and more complex smoking experience").
This cigar has a smoother start than appearance would give it, so smokers who prefer milder cigars could enjoy this one and not be scared away.
Excellent price point at well under $10 a cigar.
This is one I'll definitely be buying in the near future. The flavor profile and strength are exactly what I look for in a full bodied cigar.
Thank you so much to Drew Estates for the opportunity to review this cigar. And thank you very much for reading. I look forward to the next time I can share my thoughts with you.