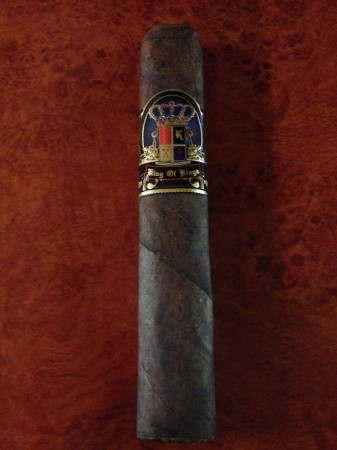 Cigar: King of Kings Broadleaf
Size: 6×64 (Cuadrado)
Wrapper: Broadleaf
Binder: Nicaraguan
Filler: Nicaraguan
Price: Purchased as part of a sampler for $40.00 from a recommended contact of Kings Cigar; $8.50 per stick at retail.
During my time at the Tweet Up this year, I was fortunate enough to meet a bunch of great people and thanks to David and Burns Tobacco, open my eyes to some cigars that I was unfamilar with. One of those companies turned out to be Kings Cigars. Pete Tyndell, their marketing director, did a great job of engaging seemingly everyone to chat and talk about their cigar line. I was unable to have one of their cigars during the event, but everyone I talked to smoking them raved. A few weeks after the event, I tracked them down and asked where I could purchase cigars for review. Anwar Mithavayani, Founder and CEO, was kind enough to point me in the right direction to pick up the sampler from which I am testing the King of Kings Broadleaf for this review.
The unwrapping of the King of Kings Broadleaf found me zero construction and an interesting prelight collection of hay, straw and mocha notes. As with any cigar of this ring gauge, I give it a punch and light and was immediately greeted with spice and dull pepper. The spicy notes stayed to the back of my palette (middle of the tongue and roof of the mouth) while the dull pepper notes (think black pepper) hit me right on the tip of the tongue. After five minutes, the majority of the spice and all of the dull pepper notes mellowed, leaving a rich, mocha flavor that stayed active on the palette until the midway point of the cigar. Like a radio being turned down a few clicks, the King of Kings Broadleaf mellowed some at the midway point. The mocha flavors settled down to introduce a woody characteristic to the forefront of the palette, finishing out the reminder of the cigar. Total smoking time was 1:40.
The only issue I encountered with the King of Kings Broadleaf was that the burn got a bit uneven through the first third, giving way to a number of relights and corrections. Besides that, the draw had a nice balance with the punch. The ash was firm enough to keep me from making a mess on myself. The strength of the cigar I would certainly characterize as full bodied but smooth and never harsh.
By-The-Numbers
Prelight: 2/2
Construction: 1.5/2
Flavor: 5/5
Value: 1/1
Total: 9.5/10
To recap the King of Kings Broadleaf:
Besides the burn issues listed above, this was a fantastic example of a large ring gauge full bodied cigar.
The smooth, yet complex flavors of this cigar will be a draw to seasoned smokers. The ring gauge might turn away new smokers or those who aren't used to a fuller body smoke (or don't want that much nicotine in their system).
I think $8.50 is a great value for this cigar. For me personally, it's going to make me think twice about similar cigars I buy.
I have a box to buy first but when I am in need of full bodied cigars to compliment what is already in my humidor, these are going in. Definite buy.
As always, thank you very much for reading and I look forward to the next time I can share my thoughts with you.