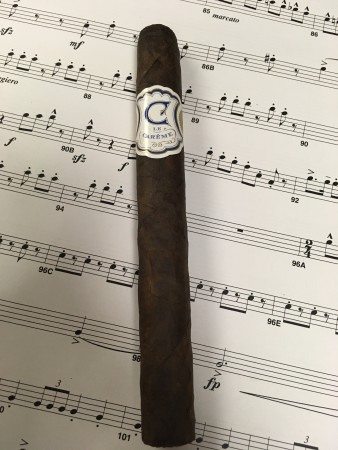 Cigar: Le Carême by Crowned Heads
Size: 6 ½ × 48 (Hermoso No. 1)
Origin: Dominican Republic Wrapper: Connecticut Broadleaf
Binder: Ecuador Sumatra
Filler: Nicaragua
Price: Purchased from The Hill Cigar Co. at $9.75 per cigar
If you have been a reader here at Leaf Enthusiast for any recent amount of time, you'll know that we are all fans of Crowned Heads and the Le Carême is among the many of their line we appreciate. The Le Carême by Crowned Heads is the final cigar in my humidor that I was not able to get to reviewing by the end of 2016. And after both David and Keith held it in high regards, I figured I needed to get off my butt and get this one reviewed.
No construction issues were found on the lone remaining Le Carême waiting for me in my humidor. The dark Connecticut Broadleaf wrapper has a fantastic appearance to the overall look of the cigar. The nose on the cigar had a great blend of cedar, straw and hints of mocha while the cold draw on the cigar gave me notes of light mocha and sweetness. As with most cigars I have smoked recently, I have opted for a V cut from my cigar guillotine. The light brought me a balanced draw with a shade of tightness to it (at least to start), accompanied by opening flavor notes of spice, wood, light cocoa and mocha. Like David and Keith, I would characterize the opening strength as medium bodied, although I am more in line with David in finding the Le Carême is on the lower side of medium in the beginning. About eight minutes into the cigar is where I first started to noticing the spice notes begin to mellow. However, that didn't last long as they began to creep back into the palette, along with woody notes 15 minutes later. Flavor-wise, the Le Carême held true with spice, wood and mocha until the last inch where wood become the predominant flavor to finish out the cigar. The strength by this point had bloomed into full bodied territory as well. The final smoking time on the Le Carême was 1:24.
No problems were encountered with the smoking of my last Le Carême. The minor tightness that I brought up earlier in the review didn't seem to last for very long. All in all, the Le Carême was what I remembered of it from smoking one last month and is yet another example of the fine work Jon Huber and his team do with the Crowned Heads cigar line.
By-The-Numbers
Prelight: 2/2
Construction: 2/2
Flavor: 4.5/5
Value: 1/1
Total: 9.5/10
To recap the Le Carême by Crowned Heads:
Yet another fine cigar from Crowned Heads. Expect a broad flavor profile with rich flavors.
The Le Carême starts out on the lighter side of medium bodied and grows to full bodied in strength by the end. The vast majority of cigar smokers can smoke this without issue.
Under $10 from a B&M. Always a positive in my book.
What I really need to do sometime is to do a Crowned Heads cigar showdown to see where this would fare against other favorites from their line. Maybe I will do that in a few months, when proper time and planning is allowed for such an undertaking. A fantastic cigar through and through and will be picking up more in the near future.
Thank you very much for reading. I look forward to the next time I can share my thoughts with you.