Vitola: Corona Gorda
6" x 48 ring gauge 
MSRP $15.95
Purchased at Burns Tobacconist
Background
The first time I ever heard the word Nacatamale was May 3, 2013. Yes, that's very specific knowledge of the first time I ever heard of a new word. I was in Nicaragua doing the Drew Estate Blogger Cigar Safari. This happened to be the last Cigar Safari that was headed up by Steve Saka and featured Nick Melillo…both left the company just a few months later. The evening before the last morning in Esteli, Steve asked everyone if they wanted food from the kitchen for breakfast (we had been doing so and it was excellent) of Nacatamales from a place he loved. We opted for Nacatamales and they looked like this:
So I knew the date because it was the day before that photo was taken. Nacatamales are traditional dishes in Nicaragua (and Honduras and Costa Rica) and are similar to tamales. They are cornmeal dough wrapped around pork, rice, potatoes, bell pepper, tomatoes, onions and other ingredients. This is then wrapped in plantain leaves and steamed for hours.

When Steve Saka decided to name his second Muestra de Saka release "Nacatamale" I knew just what he was getting at…after all, this isn't the first time he's named a cigar after food he loves (think "Papas Fritas"). If I were going to follow in his example, I'd probably have to have the "Slaters 50/50 burger" or "BBQ Ribs" or at least "Rolled Chicken Tacos" (yes, they are just taquitos, but somehow Taco Bell has made something truly desirable and worth making a run for the border multiple times in a week).
Getting back to the "cigar review" thing I'm supposed to be doing…the Muestra de Saka is a line of "unique blends and vitolas made in extremely limited quantities." Basically Steve is challenging himself to do things outside his wheelhouse and comfort zone. With the Exclusivo, he blended a "milder" cigar. For Nacatamale, he stood up to the "viejo granja" blending challenge…all tobaccos coming from a single farm and any complexity in the blend coming from leaf processing and selection. All the filler and binder came from a single farm in Jalapa, Nicaragua, while the wrapper is described as Ecuadorian Habano.
This review sample is my third Muestra de Saka Nacatamale. The first I had was slightly tight and I remarked on that on Facebook. Steve sent two cigars as a replacement for that one…so, thank you again, Mr. Saka. I did buy my second and third (this review sample) cigars from Burns Tobacconist.
Prelight
The presentation of the Muestra de Saka line is quietly elaborate. It has a dark-stained box with gold "Muestra de Saka" (and other) lettering on it. You open the box and find 7 individual coffins inside. The inside of the box and the individual coffins are just plain wood. The coffins have cliched writing and artwork on them, as well as a barcode sticker on the bottom of each coffin…the retail-friendly side of Saka showing there. The coffin slides open to reveal the cellophaned cigar waiting inside.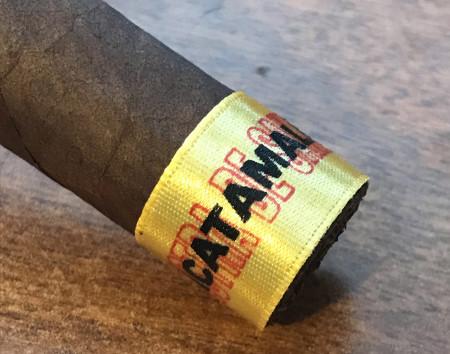 The cigar itself has a simple yellow ribbon on the foot, identifying it as "Muestra de Saka" in large red-outline letters, with "Nacatamale" overlaying that in sold, bold black lettering. The wrapper leaf was a rich, medium-to-dark roast coffee bean brown in color with a decent amount of oils to it and a heady barnyard aroma. The foot of the cigar had a more complex earth and coffee and sweetness mix to the aroma.
I clipped the end and tested the draw. The second sample and this one both were just slightly snug, offering a touch more resistance than I typically prefer, but not enough to really call it "tight." The cold draw had flavors of black cherry, grass, leather, and something almost, but not quite, floral.
Flavor
The Muestra de Saka Nacatamale starts off with the most interesting counterpoint of leather and earth opposing dried fruit and honey sweetness, finishing up in a spicy pepper punch to the palate that is only intensified if you retrohale the smoke. The spice settled down a bit as I got deeper into the first third, but the complexity of this cigar was still very high considering that all the filler and binder leaf came from a single farm. Lots of earth and leather, lots of sweetness, little bit of coffee and cocoa powder coming through.
The pepper continued to recede in the second third as the sweetness of the Jalapa leaf grew more prominent, taking on an almost syrupy quality at times. There was still a good amount of earth just underneath that with continuing hints of leather and coffee bean.
The last third of the Muestra de Saka finished up with a great blend of savory and sweet notes…salty, dried fruit, leather, coffee.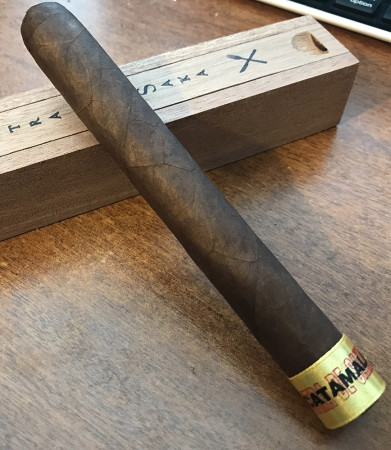 Construction
The draw was just about right on this sample, while the ash was solid and the burn line was very even.
Value
Limited production drives up the price. Considering the experience it delivers, this cigar is worth the price on occasion.
Conclusions
This second installment in the Muestra de Saka series is a tour de force of what can be achieved in tobaccos from a single farm. The leaf that was selected produced complex sweet, floral and leathery notes that played freely on the palate while pepper seared my nose, at least at the beginning. Very nice and apparently very popular with the blender of this liga…this is one that maybe should make its way into regular production in a variety of sizes.
By-The-Numbers
Prelight: 2/2
Construction: 2/2
Flavor: 4.5/5
Value: 1/1
Total: 9.5/10