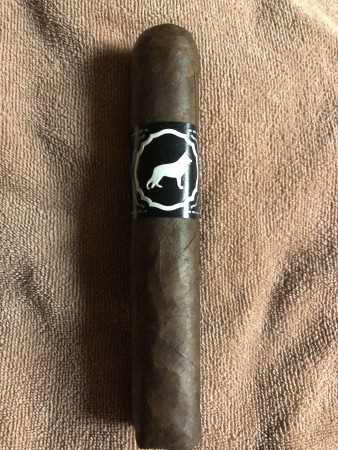 Cigar: Protocol K9
Size: 5 x 56 ("Fur Missile")
Wrapper: Nicaraguan Habano Rosado
Binder: Nicaraguan
Filler: Nicaraguan
MSRP: $9.00 per cigar or $89.99 per bundle of 10 from Famous Smokes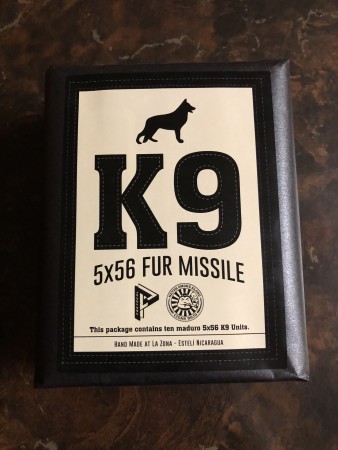 This next cigar came to my attention via our fellow brothers of the leaf over at Cigar Dojo. I happened upon their smartphone app by way of random searching in Apple's app store. As a quick aside, Apple, in the last several months, seems to be coming down on the cigar community (among others). This is bothersome to me as a longtime Apple user but that rant is best served for a 'Smoking Chair' article. From finding this app on the App Store, I ended up on Cigar Dojo's website and ended up seeing the post regarding the Protocol K9. The cigar itself came out of a collaboration between Cigar Dojo and Cubariqueño Cigars to honor K9 law enforcement officers and their handlers. Between reading about how the cigar came to be and the description of the cigar (strong!), I knew I had to try and acquire a bundle. And as luck would have it, I was able to secure one.
No construction issues were found on the one chosen for review. I believe I smoked two before this review and one after. The pre-light aromas brought notes of tilled soil and something akin to baking spice while the cold draw gave a solitary flavor of dried fruit. After a standard cut via my cigar cutter, I found a nicely balanced on the light with opening notes of heavy spice, pepper and a leafy/herbaceous flavor that I couldn't necessarily pin point. Right out of the gate, this is a potent, full bodied cigar. In fact, with the first K9 I smoked, I realized about half way through that I didn't eat a meal for dinner that evening and was subsequently buzzing hard from the cigar. You've been warned so prepare accordingly. It took about 15 minutes before the flavors began to change, giving me less overall spice with more herb and pepper notes on the palette. From there, the cigar stayed as described until the 10 or 15 minutes where the overall strength moved up slightly while adding stronger herbaceous flavors mixed with hits of wood. The Protocol K9 final smoking time finished at 1:30.
Minus a relight and a burn correction, the cigar chosen for review smoked wonderfully. And really, every one that I have smoked so far has ended up being a good citizen concerning construction and overall smoking.
By-The-Numbers
Pre-light: 2/2
Construction: 2/2
Flavor: 4.5/5
Value: 1/1
Total: 9.5/10
To recap the Protocol K9:
This is what I would consider a perfect representation of a full bodied Esteli-Nicaraguan cigar. Strong, hearty and spicy! The only reason I didn't give this a Perfect 10 was I prefer to see a little bit more depth to the flavor profile and/or starting and endpoint of strength. Even still, this is one cigar I am going to have to smoke very slowly.
Given the strength of this cigar, this is one that those who favor a lighter fare might want to avoid. Upon trying mine one night, my wife's eyes got really big. She loved the flavor and strength but didn't think she couldn't finish an entire cigar.
Under $10 a cigar. Fantastic.
This is one cigar I wish I would have purchased two bundles. This was a limited run of cigars and according to the Famous Smoke Shop website, they are sold out. I can only hope that one day, Cubariqueño decides to do another run of these fantastic cigars.
Thank you very much for reading. I look forward to the next time I can share my thoughts with you.