Originally published at Tiki Bar Online.
Colt, 6.5" x 38 ring gauge / MSRP $6.00
Last week I began a month-long look at the cigar lines produced by a new company called Felix Assouline Cigars. Today I am looking specifically at the blend they call Ringo. My first inclination when I saw this cigar was to ask, "What about John, Paul and George?" I looked closer at the band, though, and noted that this cigar isn't about Fab music, but more about the Old West. Indeed the company's website says that "Ringo is a call to our Western heritage. Sizes include the Lawmen, Ranger, Outlaw and Bullet, as well as the Colt I am smoking for this review. They deem Colt a "Lonsdale" although with its 38 ring gauge, I rather think of this as a Petite Lancero. albeit box-pressed…very box-pressed…almost flat, really. Like almost everything else issuing from Felix Assouline Cigars, all Ringos are box-pressed (they claim that 99% of their cigars are box-pressed). This blend uses Nicaraguan and Honduran fillers, an Indonesian binder and a Habano 98 wrapper (whose country of origin is not stated anywhere I could find). As with the others in this series, all cigars were provided by Felix Assouline Cigars and I smoked 2 of them during the review period.
A western-looking font, cow skulls, playing cards, rough wood and six-shooters are all on-hand to signal that this is an "Old West" theme. It's a cool-looking band with muted colors except for the brand name. Not a criticism, but I wish someone would go all the way with the theme sometime and produce a rough and ugly cigar with a Western theme…ugly to look at, but with top-notch construction. Just saying that would be cool. The wrapper leaf was slightly oily to the touch and smooth, with no prominent veins. The color was a medium-dark-brown with some reddish hue to it, and the aromas I picked up from it were cedar and earth and a bit of aging tobacco. From the foot I got a more distinct earthiness and a note of sweetness, as well. I cut the cap with my regular Xikar Xi and here's where there was one problem area. For the first cigar I smoked, I smoked it soon after it arrived in the mail and when I clipped it, the cap pretty much completely came off. I was able to moisten it some and re-attach it for a while, but it wasn't a real solution. For the second one, I moistened the cap first and it prevented it all from coming off, but only just. I still saw the edges of the cap loosen a bit where they met the body of the cigar. I almost wonder if the size is just too small to properly box-press. If that's not it, then they may just need to use more glue on this size. The cold draw was excellent and I got flavors of sweet hay and earth, along with a hint of dried berries.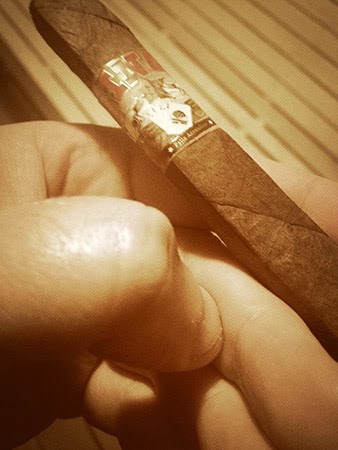 The first third of the Ringo greeted me with a dry cocoa powder and semi-sweet chocolate flavor, along with more subtle notes of hay and pepper spice. Shortly into the cigar, I stated having some issues with the draw going sideways; when I knocked off the ash, I saw that there was a bit of a hollow. It didn't cause too much of a problem, but it was a little annoying. As I kept smoking I noticed a bit of dried fruit in the sweetness and a touch of black coffee in the mix, too.
As I puffed through the second third, I noticed the flavor of cedar work its way in and the pepper spice started to increase a bit. The balancing sweetness continued as well. After the initial small construction issues, I saw no other problems to this point; the draw was very good, if a little snug at times; the ash was solid; and the burn line was even enough to only need a few minor touch-ups.
Through the end, the Ringo was sweet and earthy, smooth and spicy, a very nice balancing act making good use of the different tobaccos in the blend. The body was medium-plus and the strength was about the same; this cigar was full-flavored, though, and that's the most important thing in a blend. With a very attractive price point, to boot, the Ringo is definitely a cigar I would enjoy having again. I'd love to give a try to some of the other available vitolas as well, as that may be the fix for the small construction issues I encountered.
Body: 6/10
Strength: 6/10
Complexity: 7/10
AFP Scale
Prelight: 2/2
Construction: 1.5/2
Flavor: 4.5/5
Value: 1/1
Total: 8.5/10