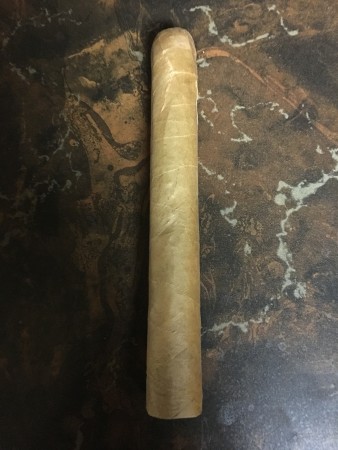 Cigar: The Caleanoch 25
Size: Natural (6×50)
Wrapper: Ecuadorian Connecticut
Binder: Dominican Corojo
Filler: Dominican Air-Cured Corojo (65%), Dominican Peat-Cured Corojo (25%), Dominican San Vicente (10%)
Price: $12.69 from Two Guys Smoke Shop
Anyone who has been a reader of my posts should know by now that I am a huge fan of single-malt scotches, especially those from Islay. I discovered this next cigar around the time of this year's IPCPR and was very excited to get ahold of them to try. The Caleanoch 25, made by Kiln Tobacco, utilizes a curing method that brings out new flavors to tobacco. What they have done however is use peat from Scotland in the curing process:
In developing the peat firing process, we exchanged the traditional hardwood used in fire-curing with peat imported from Scotland. The resulting heat and smoke produced by burning the peat delivers phenols that are absorbed directly into the tobacco leaf.
The first time I saw The Caleanoch 25, I swear someone had made this especially for me (it wasn't). The pairing of two of my favorites vices…yes, please.
No construction issues were found with the cigar. You can get hints of the peat, along with farm-like aromas on the pre-light. Starting out with an open draw. the flavor notes starting the Caleanoch 25 consisted of heavy doses of spice along with leather and peat. Don't let the Connecticut wrapper fool you; this cigar to me qualifies right away as full-bodied in strength. The spice settled down at the 11 minute mark, leaving the peat and leather to linger on the palette. The cigar mellows a touch at the halfway point and gradually steps up again ever so slightly right at the end of the 1:17 smoke time.
I encountered zero problems with the cigar. The draw and burn stayed true the entire time. My only regret with the Caleanoch 25 was that I only bought two.
By-The-Numbers
Prelight: 2/2
Construction: 2/2
Flavor: 5/5
Value: 0.5/1
Total: 9.5/10
To recap the The Caleanoch 25:
If you are looking for something different to smoke, start right here. The use of fire-curing Scottish peat into their tobacco makes this a unique cigar. This cigar was designed to be enjoyed with scotch and I can tell you that it pairs perfectly with a glass (smoked my second one with Laphroaig and it paired splendidly).
My wife who enjoys more medium-bodied smoked tried this and enjoyed it, saying that she found the cigar to be very different than others smoked.
The only negative on the cigar, as minor as it is, is the price. For me, it is just out of the comfortable price range for me. If it was about two dollars cheaper, this would be a Perfect 10 hands down.
While I can't afford to be buying these all the time, The Caleanoch 25 is going to be visiting my humidor again very soon, and it numbers of more than two at a time.
It is also noted that later next year, Kiln Tobacco will be coming out with blends that will be using utilizing stronger peat strengths. You can guarantee that I will be on those as soon as they are available.
As always, thank you very much for reading and I look forward to the next time I can share my thoughts with you.