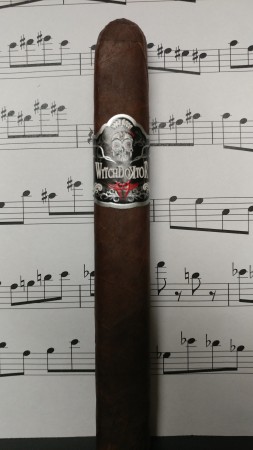 Cigar: Witchdoktor
Size: 6 x 50 (Toro)
Origin: Nicaragua
Wrapper: Ecuador Oscuro
Binder: Nicaragua
Price: $57.85 for a box of ten from JR Cigars
Much of my time in using social media these days is not done from Twitter, but from Gab. You may have heard about Twitter and Facebook cracking down on 'offensive speech', suspending or even outright banning people from their service (in the case of Twitter). While I don't want to get into the politics of their decisions, I have my right to not use their service, so I left Twitter a few months ago. Being on Gab and posting links to this website, I have met a few people who have appreciated anything cigar-related they come across. One such user posted a picture of today's cigar I am reviewing: the Witchdoktor, an A.J. Fernandez made cigar for JR Cigars. I took one look at it and knew I had to check it out.
No construction or packing issues were found in my cigar chosen for review. I love the look of the dark, veiny, and slightly oily Ecuador Oscuro wrapper on this cigar. The pre-light aromas gave me something akin to farm life or tilled soil and leather while the cold draw gave very faint notes of berry and leather. I utilized my cigar guillotine as I normally do these days and opted for a V cut. Lighting up, I was greeted with an open draw and starting notes of spice, wood, bitter cocoa and light leather. I would characterize the starting strength of the cigar as around medium-to-full bodied. Interestingly, all the initial flavor notes stayed as they were until the midway point in the cigar, where I found more spice and woody notes begin creeping into the palette. As the cigar pushed towards the last inch, much heavier wood and bitter cocoa notes finalized the cigar's life, while pushing right into full bodied range of strength. JR cigars website called this cigar a long burner and I will concur; the total smoking time on the Witchdoktor comes in at 1:52, so plan accordingly should you smoke one.
I encountered zero issues in smoking the Witchdoktor I chose for review. The burn stayed even, the cigar never got harsh or overbearing and the remaining nine cigars cigars all smoked more or less the same, minus a minor burn correction. The only thing I am sad about is that I have smoked the entire box.
By-The-Numbers
Prelight: 2/2
Construction: 2/2
Flavor: 4/5
Value: 1/1
Total: 9/10
To recap the Witchdoktor:
You can usually never go wrong with a cigar from A.J. Fernandez and this is no exception. For those looking for an easy going maduro wrapper cigar, you should consider this.
Despite being medium-to-full bodied in strength, I think most cigar smokers could enjoy this without an issue.
A fantastic deal for the price.
The Witchdoktor is going on my short list for inexpensive cigars to pickup. This one is definitely going to be seeing my humidor again.
And a special thank you to Gab user George Angus for putting the Witchdoktor on my radar.
Thank you very much for reading. I look forward to the next time I can share my thoughts with you.