750 mL bottle 
~$53
Purchased at Riverside Wine & Spirits
Background
I was proud to be one of the first to review Chattanooga Whiskey, way back before it ever even really hit the market. Whiskey distilling was banned in Hamilton County, Tennessee, for 100 years, starting with Prohibition, and continuing on through Tennessee's patchwork of wet, dry and damp county laws that proliferate to this day. When I moved to this area, you could buy or sell just about any type of alcoholic beverage in Hamilton County—and you could brew beer—but you could not legally distill any alcoholic beverage. The Chattanooga Whiskey Company was at the forefront of the movement to change that law, and while they are now distilling whiskey in the city, they are still sourcing the majority of their liquor from Lawrenceburg, Indiana. After all, making quality aged spirits takes time!
One of the latest projects they have worked on using the Indiana-sourced whiskey is 1816 Native. Basically, they age regular Chattanooga Whiskey 1816 Reserve (and presumably Cask, as well) in oak barrels. Those oak barrels are then sent to a Tennessee-based brewery where a "native" beer is aged in the used whiskey barrels. Then the barrels are sent to Chattanooga where they are refilled with 1816 whiskey, which is then allowed to finish in the beer-barrels-that-were-originally-bourbon-barrels.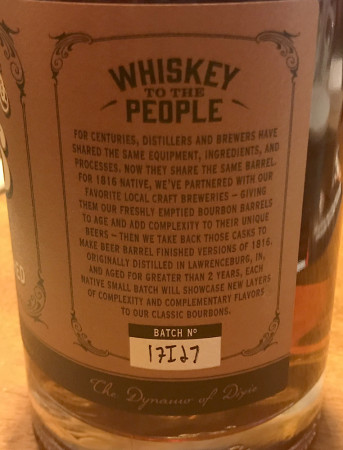 It's complicated, but fun. I picked up a bottle of 1816 Native with whiskey that was finished for over 3 months in barrels that once held OddStory Brewing Company's Spiced Belgian Quad. According to Chattanooga Whiskey's Facebook page, this beer is:
Brewed with belgian candy sugar, orange peel and vanilla bean…
and
…their rich, trappist-style quad gave dark fruit, bubblegum and baking spice notes to our finished whiskey.
I bought the bottle at Riverside Wine & Spirits, located on the north shore of the Tennessee River in Chattanooga. It weighs in at 100 proof (50% alcohol).
Notes
The 1816 Native OddStory presents a medium-dark amber color in the bottle and in the glass. I found it darker than 1816 Reserve, but not as dark and deep in color as the Cask version. I poured it into a snifter-type glass. Along with the typical vanilla and oak notes I expect to get from a premium Bourbon, there was a definite orange note and an enhanced sweetness to the aroma.
Taking a sip, I found the whiskey incredibly smooth initially as it hit my lips and the tip of my tongue. It was full and sweet with corn whiskey goodness and a huge vanilla flavor. It took a few seconds before alcohol vapors and notes of spice came through a little bit….but it was just a little bit and it was fairly short in duration. The finish had just a touch of that baking spice that was noted above.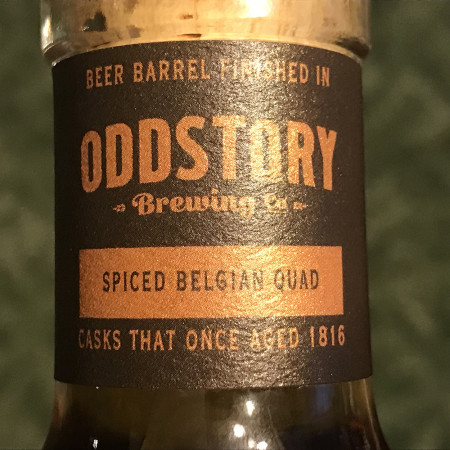 To me, it seems like the OddStory Spiced Belgian Quad barrels had the result of softening and sweetening the whiskey.
I paired the 1816 Native OddStory with a Diesel Grind that I got from our General Cigar rep. The Diesel line is made by AJ Fernandez and the Grind if the first one that is being distributed through "regular" General means rather than just through their retail stores (Cigars International). It is a fairly full-bodied Nicaraguan blend with a great deal of earth and cedar flavor. It benefited greatly from having the sweeter version of Chattanooga Whiskey paired with it, giving the experience a little more "roundness" and complexity.
1816 Native was also made in conjunction with the following breweries and beers:
Big River Brewery's Smoked Baltic Porter
Moccasin Bend Brewing's Belgian Golden Strong Ale
Chattanooga Brewing's Imperial Stout
Terminal Brewhouse's Cherry Stout
Hutton & Smith Brewing's Wee Heavy
Yazoo Brewing's Blackberry-aged "Embrace the Funk"
If someone wanted to gift me a bottle of whiskey, I would most appreciate the Imperial Stout or Cherry Stout.