16 oz growler
~$9 (including growler)
Background
Monkey Town Brewing Company opened a couple years back in my hometown of Dayton, Tennessee. If you aren't familiar with Dayton, it was put on the map almost a hundred years ago with the infamous Scopes Monkey Trial. The state had outlawed the teaching of evolution in public schools and the town fathers saw an opportunity. Get a local guy to teach evolution and get put on trial. The spectacle saw William Jennings Bryan and Clarence Darrow opposing each other in the downtown courthouse in a legal battle for the ages. And one of Dayton's nicknames ever since has been Monkey Town.
One of the latest beers brewed at Monkey Town Brewing is "I'm Cuckoo for Coco-nuts" and when I heard about it, I knew it would be right up my alley. This is an Imperial Stout "conditioned on heaps of toasted coconut and fresh Laotian coffee from Mad Priest Coffee Roasters down in Chattanooga."
I'm Cuckoo weighs in at 9.7% ABV and I bought a 16 ounce growler so I could bring it home and do a review. With the frequency of new beers being produced at Monkey Town, don't be surprised if this isn't the last time you see me look at one of the local creations in these pages.
Notes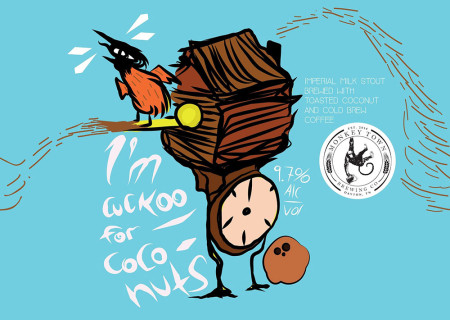 It's a Stout…and it looks like one with the almost-black color. The aroma from the glass was faintly beery with chocolate and coconut notes coming on strong. The first sip had coconut right up front with coffee and chocolate right behind, with the malty beer flavor as a finish.
At the recent Tatuaje event in Nashville, I was able to score a Cazador Broadleaf from the Broadleaf Collection that Belle Meade Premium Cigars had opened for single stick sales. I fired it up with this beer and was very pleased with the first puff that was sweet, chocolatey and slightly peppery.
I'm not sure if it was the beer on my palate or just the nature of this particular vitola, but he Cazador Broadleaf had very little pepper and most of that was relegated to the retrohale. It could just be that the beer subdued it a bit and brought out more of the sweeter flavors.
Did I like this beer? Loved it! Where can you get it? Dayton, Tennessee…and nowhere else at this time. From one of their posts, it sounded like they might be working on bottling and distributing Monkey Town beer in the future, for now it's a hometown special.