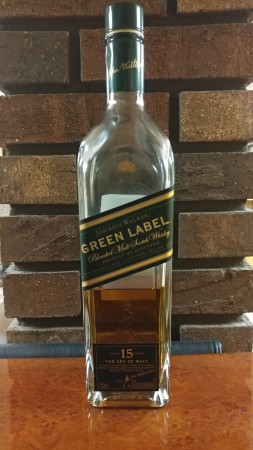 Name: Johnnie Walker Green Label
Type: Blended Scotch Whiskey
Origin: Scotland
ABV: 40%
Price: $64.99 at our local Randall's Wine and Spirits
It's been another busy couple of weeks in our house, more on my end this time with what seems like nonstop music gigs. I'm actually typing this right after finishing up a night of Oliver Nelson's music at one of the more prominent jazz clubs here in St. Louis. I teased the Green Label in a previous review and thought with everything going on this week, this would be the perfect time to give the often-overlooked expression of Johnnie Walker a go.
Johnnie Walker Green Label was not always a full-time expression for the company, but today you can find it at most liquor stores without too much trouble (or in my case finding it at my local BP Station for $30 less than it should be). The history regarding the Green Label is below:
In creating Johnnie Walker Green Label, Jim Beveridge, the Johnnie Walker Master Blender, set out to craft a whisky with a taste experience which can't be found in any one single malt whisky. Jim's extraordinary knowledge of Scotland's malts helped him decide on a balance of Speyside, Highland and Lowland malts and more intense whiskies from the Scottish islands, each of them carefully matured for a minimum of 15-years in American and European oak casks.
I first learned of Green Label from a friend who is a local whiskey expert. His experience with it and having owned all the standard bottles is that the Green Label was his favorite, as it reminded him of a single malt Scotch instead of a blend. I can concur with his assessment, but let's get into my personal notes regarding it.
The color on the Green Label seemed to be a shade darker than the Red Label, both being a sort of Yellow Gold. The flavors I got from the nose gave me smoke, peat, and something reminiscent of toffee. The smoke and peat scents come from the Caol Ila portion of the blend (noted above as the Scottish Islands). The front of palette, after a few tastes, gave me something sweet, like the toffee mentioned earlier.The middle of the palette brought me the always familiar smoke, peat and spice notes and the aftertaste had the Islay-characteristic 'medicinal burn', but notably much milder and more reserved than what am normally accustomed to. Like my friend, this is easily my favorite Johnnie Walker. It has flavor notes similar to that of the single malts I like to drink, albeit at a lower level. And because of those Islay characteristics, it lends itself well as a partner to a cigar.
The Green Label gives off enough smoke and peat flavors to where it can compliment nearly any cigar you'd want to put with it, save perhaps something flavored. For the purposes of the review, I paired it with a maduro Serino 20th Anniversary (review coming in a few weeks) and the whiskey balaneced itself well to the cigar and vice versa. All in all, I would highly recommend the Johnnie Walker Green Label, especially to our brothers and sisters of the Leaf.
Final Score: 9.25/10
As always, thank you very much for reading and I look forward to the next time I can share my thoughts with you.