~$32 for 750 mL bottle 
Purchased at Bacchus Liquor
Background
Knob Creek Bourbon is an offshoot of the Jim Beam Distillery, begun by master distiller, Booker Noe, as a way of reviving the notion of "real bourbon." The story (chronicled on the website) says that after Prohibition was lifted, the distilleries that were able to restart production had to tame their whiskies to something softer because of the short aging time that financial realities forced them into. To that end, Knob Creek 100 Proof was introduced in 1992 and is credited with being at the beginning of the "small batch Bourbon movement." (And it's not the only small batch/ultra-premium expression of Bourbon that Jim Beam makes…they also produce Booker's, Baker's and Basil Hayden's.)
So the "secret ingredient" in Knob Creek is time, a total of 9 years, actually…"extra aging, longer than nearly every other small batch offering, allows our bourbon to absorb more of the sugar from the wood, giving it a richer taste. And treating our American white oak barrels with the highest char level brings out even more distinctive flavor qualities during the aging process."
The whiskey takes its name from the small stream that flows through the Kentucky childhood home of President Abraham Lincoln. Like other Beam products, it is created in Clermont, Kentucky, roughly halfway between Elizabethtown and Louisville. The San Francisco World Spirits Competition has given Knob Creek multiple awards between 2005 and 2012 (2 double gold, 3 gold, 1 silver, and 1 bronze medal), along with naming it 2015's "Best Bourbon."
Great pedigree and highly awarded…and yet I believe this is the first bottle of Knob Creek I've ever purchased. I've certainly drank from others' bottles, but never bought my own.
Notes
I poured a couple fingers of Bourbon into the small rocks glass. I actually bought the gift set of Knob Creek that comes with a couple of these glasses…these come out around the holidays for many brands and are always a good way to replenish the supply of branded whiskey glasses that get broken in the course of the year.
The color was a medium-dark amber and when I swirled the Bourbon around the glass, I saw legs that were incredibly thick and slow-moving. Honestly, I might expect that kind of viscousness from a liqueur, but for a standard whiskey to be this thick is really unexpected.
The aroma of the Knob Creek was very heavy with vanilla, along with more minor notes of oak and corn and honey. I took a very small sip and found the liquid thick and sweet up front with molasses and vanilla notes in abundance. The woody notes came in behind that around the time the alcohol burn started on my tongue. The burn was mild and short-lived, however, as the Knob Creek Bourbon proved very smooth overall.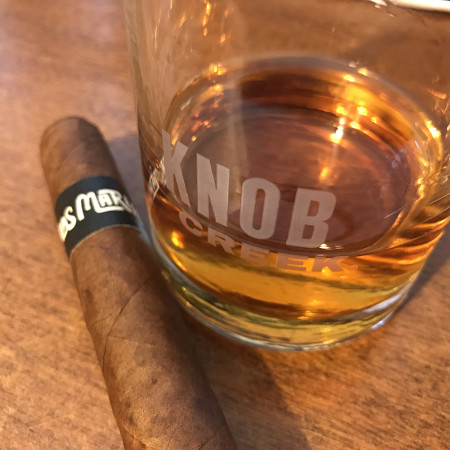 My first inclination for a cigar pairing was something in a Connecticut Broadleaf Maduro, but I decided that was just too easy, so I shifted gears and decided to put this whiskey alongside a Las Mareas by Crowned Heads.
Las Mareas is a Nicaraguan puro, made for Crowned Heads in the My Father factory. I reviewed it a while back, concluding that while it had a very Cuban character (medium-plus in body with a "tobacco-forward" flavor profile), it still had a very Nicaraguan flavor. I've smoked quite a few of them in the last couple months and thought the whiskey could actual pair well with the cigar by adding some sweeter notes to a cigar that doesn't have a great deal of sweetness on its own.
This pairing turned out pretty good, but I'll be honest…so did just about every other pairing I've done with the Knob Creek. It's simply one of those Bourbons that lends itself to playing and working well with others. And it's become one of my favorites in the past couple months.