2 oz. tin

 

$14.49
Purchased at Burns Tobacconist
Background
I've tried to vary my pipe tobacco experimentation, getting beyond my comfort zone of English Oriental blends and becoming a little more familiar with tinned aromatics. For the most part, I've found tinned aromatics are more complex and subtle than the bulk blends and the marketing-speak on Stovepipe promised more of the same…
A trail of bright and red Virginias winds its way upwards, ascending to a summit of Perique, dark Burley leaf, and black Cavendish. Lightly topped with flavors of cocoa, caramel, and vanilla, it makes for a sublime, exhilarating smoke.
Does it meet up to the verbiage? Let's find out. I am smoking Stovepipe for about the 4th or 5th time for this review.
Notes
The description above made the whole experience sound just incredible. When I opened the tin, though, I was greeted by a sweet caramel and vanilla wall of aroma. Truly, it was anything but subtle and I immediately questioned the meaning of "lightly topped."
The appearance of the tobacco really showed off a lot of the Virginias as the overall color ranged from light golden to a deep reddish gold color. If it weren't explicitly noted, I wouldn't guess there was any black Cavendish in the blend at all.
The first few times I smoked this I had a very difficult time keeping it lit and getting through an entire bowl. I also noted that the flavors seemed somewhat muted, which definitely happens with cigars that are too humidified. I asked another pipe smoker what he would recommend (remember, while I'm an expert cigar smoker, I'm still rather a novice at pipe smoking). He said to use a flake bowl and let the tobacco dry a bit before smoking it. I don't have a flake bowl yet (but it could be on the list) so I just spread out the tobacco on a sheet of paper. I gave it about 45 minutes before loading up my pipe.
The difference letting the tobacco dry for a while made was remarkable. While my previous attempts to smoke Stovepipe were exercises in frustrating re-lights punctuated by heavy flavoring additives, this time the topping did indeed seem "light" as I got notes of citrus and baking spice from the tobacco, along with occasional hits of pepper, all riding beside the vanilla and toasted caramel flavors that came through distinctly and beautifully.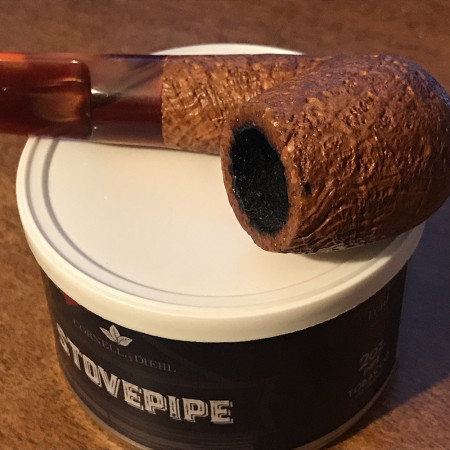 Once I got the tobacco lit, it didn't seem to be nearly as temperamental as my previous attempts, either. I was able to keep it lit without burning it so hot that I had trouble holding the bowl of the pipe.
I really have to thank Scott Tinker, who advised me on this tobacco before I reviewed it. If I hadn't had a chance to speak to him while I was working at Burns last Saturday, I would have merely repeated my previous experiences with Stovepipe and given it a less-than-stellar review.
Like I said, I'm an "amateur pipe smoker" and I still have a lot to learn. Don't be afraid to find those people in your community that have mastered this art and ask questions…you may feel stupid doing it, but there is definitely a lot to learn.