So 2018 hasn't started out great for the Siddle household. Right into the first or second day of the year, my wife and I noticed our basement carpet being incredibly wet. With all the cold the Midwest (and most of the country) has gone through over the last few weeks, we assumed that one of our upstairs pipes had burst. Luckily, after a visit from a professional plumber and some extensive searching, it was determined that burst pipes were not the case (faulty humidifier for those wondering). Covering this and getting a couple of kids and a wife back into 'school mode', there hasn't been time this week to give a full-on cigar review. With that being said, I do have a few items to cover in today's post.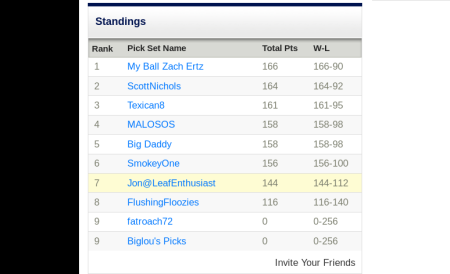 Leaf Enthusiast Pick'em League
We have a winner for this year's Leaf Enthusiast NFL Pick'em League: My Ball Zach Ertz. I have reached out to Matt and he is thrilled to receive his bundle of Dominican Churchills from Sticks Cigar Company. Thanks to everyone for particating this past year. I can guarantee that at the very least, we'll be running another pick'em league in the 2018 season. I have also rolled the concept of a season-long FanDuel league as well. If/when I have made a decision on that, I will be happy to report on it.
When I have smoked…
I have had time here and there to enjoy a cigar, although it has been since New Years. The Dominican Churchills I ordered for the Pick'em League have a variant with a Mexican San Andreas wrapper which I ordered a bundle to try. Those are as good as the aforementioned ones. Expect a review on them in the next few weeks. In addition to two cigars from Dunbarton Tobacco & Trust, I have something new that Rodrigo Cigars is distributing. It's fantastic and definitely one I want to share here. I'm not sure if I'll be able to get to everything this month but I can guarantee the one Rodrigo is distributing is coming next.
Libations
My wife and I have been enjoying two new whiskies that came across our path. Port Askaig Islay has been a wonderful single malt Islay scotch that came in high regard at my local liquor store. If you are a fan of smoke and peat in your scotch, this is definitely one to try. The whiskey my wife has really taken to has been the RedBreast Lustau Edition Edition. It incorporates a wonderful sherry character into already great Irish whiskey. While I would
love to guarantee a review on both of these, they may not last long enough to get to that point. We shall see, but at the very least I would highly recommend both should you be looking for a liquid companion to accompany your cigar.
That is all I have for this week. I'm going to do my best to get a review for next Friday done, now that the basement drama is nearly completed. Best wishes to everyone for 2018.