Vitola: Gordo
6" x 60 ring gauge
MSRP $8.49
Purchased at Eight-Eighty-Eight Lounge
Background
Earlier this year, CAO announced a limited edition cigar called Zócalo, released near Cinco de Mayo and paying homage to the gathering places in Mexican city squares—zócalos. This was the first CAO release to feature a Mexican wrapper, as well. This is what their website has to say about it:
Shrouded with a Mexican San Andrés Morron wrapper, this leaf provides a depth of flavor adding complex earthiness, subtle spice, and a delicate sweetness to the overall experience. Combined with spicy, full flavored Nicaraguan fillers bound with an African binder, this cigar is an exceptional example of generational cigar knowledge and expert blending abilities rolled for your smoking pleasure.
The shop I work at did not order Zócalo (although the reason we didn't escapes me at the moment) and I haven't gotten around to many other shops this year. When I went to California in early October, though, I set about to get to as many shops as I had time for and see about picking up some cigars I hadn't yet had. Eight-Eighty-Eight Lounge in Fullerton is where I found the CAO Zócalo. I can't remember what I paid for it, but it was "California Pricing" so I believe it was significantly more than MSRP. This review is based on the first time I smoked the blend.
Prelight
My first thought on taking the Zócalo out of the cellophane was "Why?" Specifically, "Why did I agree to do a review of a 60-ring gauge cigar?" (The agreement was with myself, so I guess I could renege on it…but that's beside the point.) I just don't generally care for most big ring sticks. Why should this one be an outlier? One reason is that Zócalo only came in the one size. I definitely wanted to give it a try and the only way that would happen is in the large format.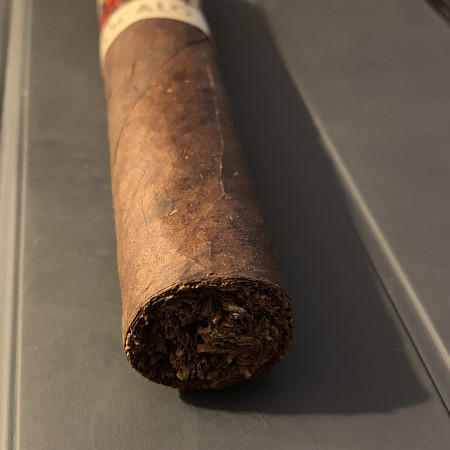 The band on this stick is pretty cool. It has a creamy parchment looking background, with the CAO logo at the top center, "Zócalo" at the bottom center in a "retro-modern" font, and line art of a Mexican city in the middle, complete with Mexican flag flying above the middle of the building. There's a horizontal red line across the center of the band and through the city. 
The wrapper leaf was a dark chocolate brown color with a decently oily shine to it and a definitely oily touch. It smelled of earth, manure, and coffee beans. The foot had a sweeter earthiness, with touches of chocolate and hay. After clipping the head, the test draw was excellent and had flavors of cocoa powder, coffee bean and earth, with a very slight sweetness.
Flavor
Whatever I was expecting from a Nicaraguan blend wrapped up in a Mexican San Andres leaf, the first few puffs of the Zócalo were not it. There was definitely a good amount of Nicaraguan earthiness, but the very specific bitter earthiness that I usually get with Mexican leaf was not there at all. There was some sweetness, but almost more of a sweet pepper note, mixed with medium-roast coffee beans, and baking spice. The retrohale displayed some red pepper on the nose, but though it was hot, it was short-lived, disappearing only seconds after blowing the smoke out through my nose. Subsequent retrohales revealed some nice sweetness in that smoke, as well. This cigar definitely started out more complex and enjoyable than I expected. As I went along, the sweetness resolved itself into an almost brown sugar note and notes of leather came into the mix.
The smoke produced by the Zócalo was medium-to-full in body through the first third and into the second, while I felt like the strength was a straight up "medium." The second third featured more bittersweet chocolate notes and some roasted nuts, along with an ever-present peppery note at the back of the palate.
As I got into the final third and the large diameter of burning tobacco got closer to my face, the smoke tended to get hotter and stronger, to a point that it was in the medium-to-full zone for strength as well as body. I continued to get earthy and semisweet chocolate notes while the pepper spice definitely amped up near the end.
Construction
I saw a very even burn line and solid ash, while the draw was simply fantastic.
Value
The MSRP pricing on these is outstanding for the experience delivered.
Conclusions
The CAO Zócalo is an example of great blending with Mexican leaf, drawing out the sweeter notes while the more bitter components of the flavor exist in the background as balancing notes. It was a very good cigar for the first two third, while the final third tended to drag a bit…as I find often happens even in the best larger ring cigars. I did enjoy this stick, though, and would smoke it again, though preferably in a smaller format.
You can get CAO Zocalo from Small Batch Cigar
By-The-Numbers
Prelight: 2/2
Construction: 2/2
Flavor: 4/5
Value: 1/1
Total: 9/10