Vitola: Toro
6" x 52 ring gauge
~$19.50
Purchased at Burns Tobacconist
Background
Last summer, Drew Estate announced the creation of two new blends in the Liga Privada line of ultra-premium cigars. Liga Privada was created over a decade ago and featured the collaboration of a young blender—Nick Melillo—creating cigars for the company's picky CEO—Steve Saka. Liga #9 featured Connecticut Broadleaf over a rich, full-bodied blend and later the T52 featured a virtually unheard of Connecticut-Grown, Stalk-Cut Habano wrapper.
In the last decade, Nick and Steve have left to form their own separate companies and Drew Estate has brought in Willy Herrera as their new blending chief. He took charge of the Liga Privada 10th Year Aniversario project. This time around Nicaraguan and Honduran fillers are kept together with a Mexican San Andres Otapan Negro Último Corte binder and the whole thing is covered in a new exclusive Drew Estate leaf—Connecticut River Valley-grown Criollo. They had to play with details of fermentation in order to get it just right, but now they feel confident they can produce this leaf in decent quantities going forward.
At the outset, they are producing 1,000 boxes of 10 stick in a Toro vitola, while Robusto, Double Corona, and Belicoso sizes will follow as wrapper leaf increases in availability. And this is where things get a little weird. They have decided to release only 40 boxes a month to Drew Diplomate retailers. They are deciding by lottery which 10 shops will get them each month, with each shop only receiving 4 boxes of 10 sticks. That started in December and the shop I work at just got picked in April. Did I say "weird?" What I really meant is "bullshit." Maybe I'm just cynical, but it just seems like this is a manufactured shortage of cigars meant to keep hype built up and it seems a disservice to both consumers and retailers. I believe they have a room full of these cigars already made up somewhere. End of rant.
I bought a single stick from Burns…because that's all we were allowing our customers, too. This review is based on the first smoking of the blend.
Prelight
"Back in black" is the name of the game with this Liga Privada 10 Year Aniversario (I will call it LP 10 from now on)…the outside of the box is black, the inside of the lid is black, the bands are black with silver writing and artwork. I have to say it does look good…very "special" and not the same as every other LP release to date. The lower part of the box has well-fitted dividers to hold each cigar in place very snugly.
The wrapper was dark chocolate brown in color with a bit of mottling and a good amount of oiliness. The cap is done in a fan tail that has twisted tobacco wrapped around the base of it…it looks very cool. Lifting it to my nose, I got a rich cedar and tobacco aroma that immediately took me back to the early days of walking into a cigar shop…just that amazing aroma you get walking into the shop when you haven't had a stogie in several days. That just doesn't happen much anymore. The foot was more of the same since it was a closed foot with plenty of excess wrapper leaf wadded up there.
After clipping off the extravagant cap, I got an excellent draw. Cold flavors combined earth, tea, cedar and tobacco.
Flavor
Because of the way the foot was finished, it was really hard to determine when the foot was fully lit. I did my best and the LP 10 started off with tons of pepper spice up front. When the pepper faded a bit, I picked up on black coffee, leather and cedar notes as primary. As with other Liga Privada brands, the LP 10 had a massive amount of thick, oily smoke…enough that I was a little nervous that a neighbor might call the local volunteer fire department to put me out…okay, not really, but it was a lot of smoke regardless. Some sweetness came through next, in the form of semisweet chocolate, along its earth and even stronger coffee notes. On the nose, the smoke was leathery and very, very peppery.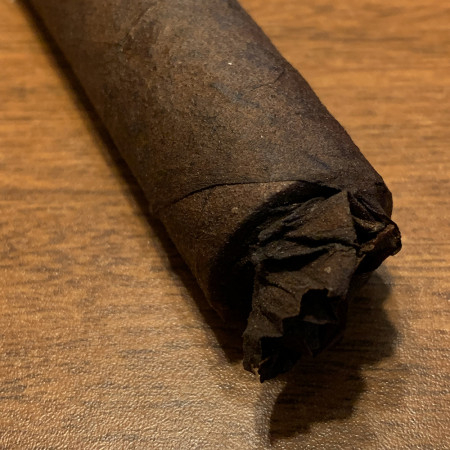 The pepper died down a lot during the second third on both palate and nose. The blend became more leathery with coffee and earth playing the supporting roles and some sweetness still lingering around in the background.
The last third of the LP 10 had earth and coffee up front with leather playing a secondary part. The sweeter aspects had faded and pepper was virtually non-existent at the end. It still chugged out an amazing amount of smoke.
Construction
I had an excellent draw, which is not always something to be taken for granted on the Liga Privada lines. The ash was solid up to nearly an inch and the burn line was even enough.
Value
Truly a special LP and it justifies the special price tag.
Conclusions
Following up the Liga Privada #9 and T52 blends was destined to be an awesomely difficult job. How do you make something unique, yet just as impactful as those original blends? Willie Herrera has proven up to the task, though, crafting the Liga Privada 10 Year Aniversario with plenty of notes reminiscent of those previous blends, yet having its own identity with notes of cedar at the beginning, giving way to coffee, leather, chocolate and earth, all while providing the full-bodied goodness that has become a staple of the Liga Privada lines. These are extremely limited right now, but in future years they should be more available. They are worth the wait.
By-The-Numbers
Prelight: 2/2
Construction: 2/2
Flavor: 4.5/5
Value: 1/1
Total: 9.5/10