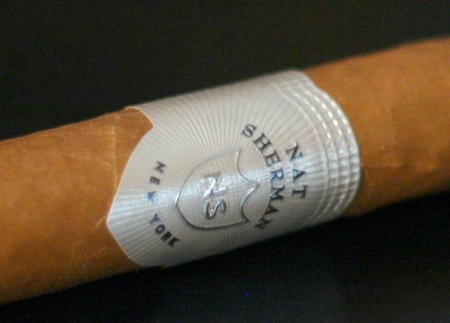 Vitola: Dallas (Lonsdale)
Size: 6.25" x 43 ring gauge
Price $14.30
Purchased at Burns Tobacconist
Background
In September, Mike and Ike from Nat Sherman came to Burns for a blending seminar. It wasn't the first seminar of this type that I've gone through, but it was educational and it's always good for someone that thinks they know a lot to work their way through one of these seminars so they can discover just how little they really know. We worked through 4 elements of the Timeless blend, then smoked a 56 ring gauge Timeless; not usually my favored vitola, but it did help to highlight the different tobaccos we smoked individually better than a smaller ring gauge smoke (where the focus would have ended up being the wrapper). It also made for a good opportunity to pick up a variety of Nat Sherman smokes to get caught up on some of their recent releases.
Sterling was part of the 2013 IPCPR releases, showing up at Burns late last year (or maybe very early this year…I can't remember for sure). I smoked one when they first came in and did enjoy it, but for some reason never got around to reviewing it. Here's what the Nat Sherman website had to say about the Sterling:
The Nat Sherman Sterling redefines elegance. A collection of sophisticated vitolas, these cigars combine aged Dominican fillers, with a Dominican binder and a stunning Ecuador-grown wrapper. Their medium to full body provides a creamy smoke along with complex yet mellow flavors and a long finish. The cigars are packed in wheels of 25 cigars in traditional slide-top cabinet boxes.
They call this a "collection of sophisticated vitolas" and although that's a bit of "marketing-speak" it's true, too…nothing in this line is over 46 ring gauge, a rarity in today's cigar marketplace, and quite welcome to people those of us that have graduated beyond the "more is better" mindset that fuels much of the big ring gauge sales. The Sterling is made for Nat Sherman by Quesada in the Dominican Republic.
Prelight
The presentation of Sterling is simple and elegant. Two bands adorn the cigar at the traditional location and the foot. Both seem to be rendered in a dull satin-finish silver foil, with additional highlighting in high-shine foil, as well as a bit of black print and an emboss motif that makes me think of the art deco style used on the covers of some of my Ayn Rand novels. The leaf around which the bands are wrapped was a beautiful example of Ecuadorian Connecticut, slightly darker than some I've seen, yet lighter than, say, the "Dark Connecticut" used by Caldwell on their Eastern Standard. It had a slightly oily feel under my fingers, though like most Connys, very little in the way of visible oiliness. The aroma from it was clean, sweet hay; the foot had more grassiness and a bit of earthiness to it.
The straight cut applied to the Sterling resulted in an unobstructed draw with just a bit of resistance. The cold flavor was slightly sweet, a bit grassy, and had just a touch of cedar.
Flavor
With a small ring gauge and single torch flame, it took little time to get the Sterling evenly lit. Once there, the flavor started of on a mostly grassy note, although the more I puffed on it, the more I noticed…subtle lemony citrus, mildly sweet hay, touched of earth and wood. The retrohale had notes of toast, roasted nuts and just a bit of white pepper. As I continued through the first third, I did pick up a slight saltiness and a dry graham sweetness on the palate.
In the second third, I really started noticing the smooth, creamy elegance of the Sterling. It had a hint of pepper bite at times, but never much. I still got plenty of hay, graham and toast notes.
The last third of Sterling showed more earthiness, cedar and pepper spice, while the hay and graham notes were played down.
Construction
As expected from a more luxury-oriented cigar, construction was perfect. The draw had just the right amount of resistance, the ash was rock solid, and the burn line needed no touch-ups.
Value
The Sterling provides a luxury experience on par with some famous cigars with a white label, but at about 2/3 of the price. I'd call that good value.
Conclusions
The first time I smoked one of these, it was hard not to compare it with some kind of white label luxury cigar (you know who I'm talking about), and the comparison still stands with the second smoking. The Dominican blend with a Connecticut Shade wrapper is shared by both as is the general flavor profile produced by the well-aged leaf. The Sterling definitely has what Michael Herklots called "Roundness" at the blending seminar…it has exquisite balance, pleasing complexity and no harshness or sharp corners. It was medium in body and strength, very mellow and relaxing in flavor and the experience it delivered.
By-The-Numbers
Prelight: 2/2
Construction: 2/2
Flavor: 4/5
Value: 1/1
Total: 9/10