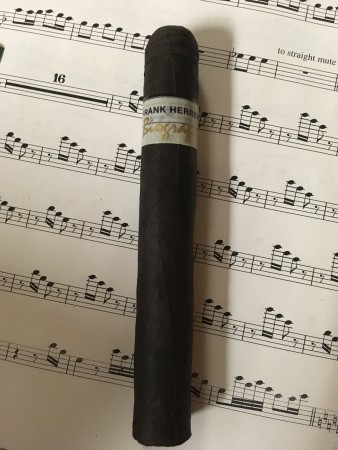 Cigar Review: Frank Herrera Biography
Size: 6 x 54 (Toro)
Wrapper: Brazilian Arapiraca
Binder: Dominican
Filler: Dominican, Nicaraguan
Price: $7.00 per cigar MSRP
Like the Surrogates Skull Breaker from my last review, this next cigar is very much new to me but it is not 'new'. It came across my radar thanks to it being highlighted in an email blast from Rodrigo Cigars last month. The Frank Herrera Biography was a collaboration between Herrera Cigars and PDR Cigars several years ago. Doing a quick bit of searching, both David and Keith have reviewed this. So now I guess it is my turn with the Frank Herrera Biography.
No construction with the Frank Herrera Biography that was chosen…more like left for review (bought two five packs of them via Rodrigo). The pre-light aromas gave me interesting notes of cherry wood and straw while the cold draw gave me citrus-like fruit notes coupled with hints of pepper. I opted for a larger cut via my guillotine and was pleased with the open draw I got from the cigar upon lighting. The opening flavor profile started with a medium-to-full body with notes of spice around the middle of the palette, pepper, and cocoa. I loved the flavor combination coupled with the fuller strength of the cigar, all the while it being incredibly easy to smoke. The strength and flavors stayed as mentioned for nearly 40 minutes until notes of burnt wood, mocha and slight spice began creeping in. The strength of the cigar also began slowly moving up as well. At the 1:20 mark, the cigar is now noticeably stronger, well past the full bodied marker, accompanied with more burnt wood, black coffee and cocoa. The cigar finished out this way with a smoking time of 1:33.
I noticed a tiny crack in the wrapper appear in the middle of the cigar around the 45 minute mark but it had no effect on how the cigar smoked. The burn was great, the draw stayed consistently open the entire time and the
By-The-Numbers
Prelight: 2/2
Construction: 2/2
Flavor: 4/5
Value: 1/1
Total: 9/10
To recap the Frank Herrera Biography:
This is a great example of a easier smoking fuller bodied cigar. I love the flavor characteristics and the length of smoking time I got from this.
Unlike the Skullbreaker, this is one fuller bodied cigar that newer cigar smokers or those that prefer milder fare could handle without getting overwhelmed.
Well under $10 a cigar. Great value.
This is another cigar that I need to dig around to get more of. A very enjoyable cigar in my opinion. I look forward to the next time I am able to smoke one.
Thank you for taking time out of your day to read what I write. I always look forward to the next time I am able to share my thoughts with all of you.