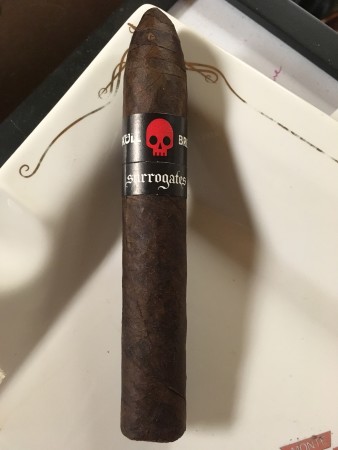 Cigar: Surrogates Skull Breaker
Size: 5.25 x 52 (Torpedo)
Wrapper: Broadlead
Binder: Unknown
Filler: Unknown
Price: $7.50 per cigar MSRP
This next cigar came out more than a few years ago but is new to me. I was killing time waiting on a haircut appointment a few weeks ago and decided to stop into my local Tinder Box to pick up a few things for the weekend. While perusing their selection, I came upon the Surrogates Skull Breaker. Made by New Havana Cigars and released in 2011, the Surrogates Skull Breaker was part of a focus to make a cigar that could compete on the higher end (think Tatuaje) but more readily available and affordable. As it came in well under $10 a stick and enticed me with a dark Broadleaf wrapper, I was more than happy to check it out.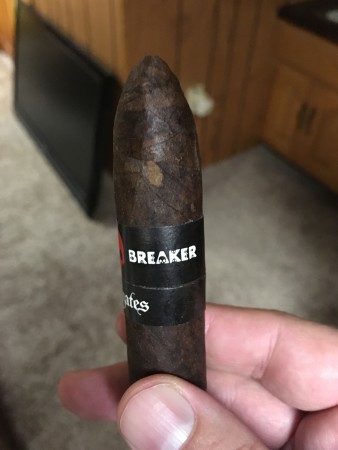 This is unfortunately the first time in a long time that I have had to type this but on the cigar I used for review (I bought two), I found a chip about half the size of my pinkie nail in the wrapper near the ascent of the torpedo. Other than that, the construction was fine. The pre-light aromas gave me strong hits of leather, earth and tobacco while the cold draw gave me only faint notes of dried fruit. Because of the torpedo vitola, I opted to cut via a set of cigar clippers I received from Christmas this past year. With a solid cut and light, I was greeted by an open draw and starting flavor notes of spice on the front of the front of the tongue, black pepper on the back part of the tongue and heavy wood and leather around everywhere else. No doubt about it: this is a full bodied, strong cigar right from the start. 19 minutes into smoking, the spice and black pepper began to subside and mellowed the overall flavor of the cigar ever so slightly. Things more or less stayed within this realm until the last inch and a half (little over an hour in) where notes of black coffee and mocha began creeping in. The strength also began to rise again and finished out with a bang to the palette. Total smoking time on the Surrogates Skull Breaker was 1:12.
Besides the chip in the wrapper easily spotted pre-light and a single touch-up on the burn, I encountered no issues with the smoking of the Surrogates Skull Breaker.
By-The-Numbers
Prelight: 1.5/2
Construction: 2/2
Flavor: 4.5/5
Value: 1/1
Total: 9/10
To recap the Surrogates Skull Breaker:
I'm surprised that this cigar got by my radar but it's on the list now. A fantastic example of a flavorful, affordable full bodied cigar.
Because of the strength, the Skull Breaker is not going to be everyone's cup of tea. I know at least two people among friends and family who wouldn't be able to get through this cigar without turning green.
Well under $10.00 a cigar, even here in IL (I think I paid just over $8). I'll take that all the time.
I'll be keeping my eyes out for these at my usual online shops, as I could always do with more of these.
And as a friendly reminder, if you are interested in winning some free cigars, I invite all of you to participate in a Pick'em league I am running at Yahoo!. Group ID is 18785 and the password is smokeacigar.
Thank you very much for reading. I look forward to the next time I can share my thoughts with you.