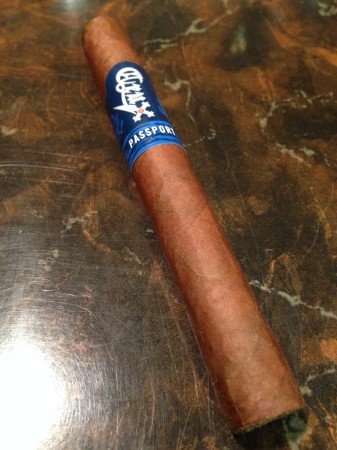 Cigar: Crux Passport
Size: 5 1/2 x 44 (Corona Gorda)
Wrapper: Nicaraguan
Binder: Nicaraguan
Filler: Nicaraguan and Honduran
Price: MSRP is $5.99 per stick
The Crux Cigars smoked and reviewed were provided by Crux Cigars.
If you missed my previous review on the Crux Ninfamaniac, please check it out here. While I enjoyed the Ninfamaniac and stand by my statement that it's the quintessential breakfast cigar, the flavor profile left me wanting just a little bit more. Let's see if the soon-to-be-release Passport can offer me that.
I didn't find any construction with the Passport during my pre-light evaluation. Hints of cocoa came to me before lighting the cigar. After a punch and light, I found an open draw with opening notes of spice and something akin to freshly cut herbs. The Crux Passport website lists this cigar as just barely getting into full bodied range. I would agree with that assessment; it's medium to full bodied in my eyes. After twenty minutes, the spice and herb flavors mellowed and the hints of cocoa detected in the pre-light found its way into the flavor profile.
The midway point of the cigar (around 30 minutes) mellowed the cigar down into what I see into the medium bodied range and left me only detecting those cocoa notes previously noted. The Passport stayed in the flavor range for the rest of the cigar's smoking time. Total smoking time was 1:05. I found no problems with smoking of the Passport. The draw stayed consistent and the burn was even throughout without any touchups along the way.
By-The-Numbers
Prelight: 2/2
Construction: 2/2
Flavor: 4/5
Value: 1/1
Total: 9/10
To recap the Crux Passport:
This is a great medium to full bodied cigar that would appeal to all ranges of cigar smokers, novice to veteran.
I enjoyed the Passport more than the Ninfamaniac because of the fuller strength and flavor notes, although the last half of the cigar made me want for more fuller bodied notes.
At their listed price point, the Passport is a nice value for what you are getting.
Should I ever see these in my local B&Ms, I will be purchasing these as they can be enjoyed by both myself and my wife.
As always, thank you very much for reading and I look forward to the next time I can share my thoughts with you.