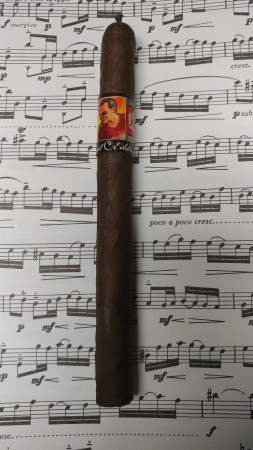 Cigar: Ortega Wild Bunch – Fast Eddie
Size: 6.5 x 38
Wrapper: Ecuadorian Sumatra
Binder: Nicaraguan
Filler: Nicaraguan
Price: $69.95 for a box of 20 from Smoke Inn
If you saw my 'Thoughts from the Cigar Chair' post from last week, you would have seen me mentioned this next cigar up for review. I got lucky in finding this cigar, as it was an add-on to an order in which Smoke Inn offered a five pack of for very little. I'm never one to turn extra cigars for little money. A little bit about the Ortega Wild Bunch – Fast Eddie: In 2013, Ortega Cigars made a limited edition production of cigars made to honor various cigar enthusiasts whom the company had interacted with while Eddie Ortega was at the helm. It just so happened that the cigar introduced in August of 2013 was named for Eddie Ortega himself. A clever way to promote your company's brand while giving thanks to others in the industry.
No construction issues were found with the last remaining Fast Eddie I put aside for review. The only pre-light aroma I got from the cigar was wood, and a lot of it. The cold draw was different, giving only faint notes of leather to enjoy before lighting. The draw was balanced and consistently that way through the entire cigar. The opening flavor notes were an enjoyable mix of black pepper, leather and wood to start with a lingering spice on the aftertaste. The strength I felt was around the medium-to-full bodied range. The Fast Eddie stayed more or less like this for the 21 minutes until I started getting a very bitter black coffee like flavor. It was so bitter that I made sure that I wasn't pulling tar. None was there – and I checked several times over the remaining course of the cigar. The bitter coffee-like flavor stayed until last inch and a half where I got more coffee flavors (without the bitterness) and heavy wood to finish out the flavor palette. The strength by this point was well into full bodied range. The total smoking time on the Fast Eddie was 1:05.
Besides being hit broadside with the bitter flavor above, I encountered no problems with the Fast Eddie. Overall, it was a solid cigar and one I would consider again if the price was right (getting a deal on them like I did this time).
By-The-Numbers
Prelight: 2/2
Construction: 2/2
Flavor: 3.25/5
Value: 1/1
Total: 8.25/10
To recap the Ortega Wild Bunch:
Overall, I enjoyed the cigar. The bitterness mentioned above I caught a bit in the other cigars smoked. For whatever reason, it was much more pronounced for this particular cigar. Still, it has a nice complement of flavors in you are looking for something on the stronger side.
I don't think the strength of the Fast Eddie would scare away newer cigar smokers but the flavor profile might be enough to make them think twice.
Even buying them at regular price from Smoke Inn, this is a nice deal to be had.
Again, I would consider these again should I find them on sale or see them in a special deal. Overall, not a bad smoke to be had.
Thank you very much for reading. I look forward to the next time I can share my thoughts with you.