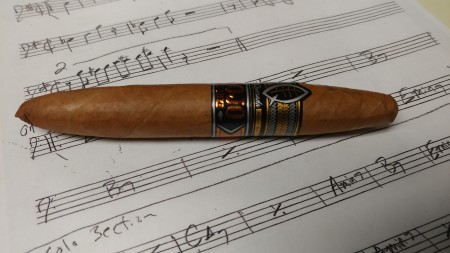 Between the week or so prior to my last review (picture of it above) and up to writing this, things haven't exactly been smooth in my house. More sickness followed, this time yours truly. Thankfully for me, it had nothing to do with food, if that is a consolation. Couple that with a musical for my wife, a few music gigs for me and us playing the game called "Who is watching the kids tonight?", I haven't had a lot of time to sit down and do a formal review on anything. With all that said, I wanted to get a few things down regarding what I have been smoking (when able), drinking and something I would call a "Call to Arms".
Cigars
If you click on my link above of my review of the Quesada Dojo De Luxe you'll see it was one that I enjoyed, as different from the normal Quesada cigars I prefer. However, that wasn't the only cigars I bought with that order. Smoke Inn is still selling the Rocky Patel Thunder by Nimish, so I was more than happy to pick up a box of those to enjoy. One add-on I was able to get for a few dollars more was a five pick of the Ortega Wild Bunch – Fast Eddie. I've smoked a couple and have enjoyed them, so expect a review of that coming next week. After that review, I need to rooting around my nearest B&M for something new to review.
Whiskey
And for a bit of good fortune, this comes from the land of Johnnie Walker. You may remember my review of the Johnnie Walker Red Label. I was at my local gas station picking up some junk food for my parents who were watching my kids one weekend and saw browsing their whiskey selection along the back wall. And good fortune indeed: They were selling Johnnie Walker Green Label for $30 less than it should be. I even asked the woman working to get me a price check on it. Sure enough, it was their listed price. I bought one right there and am currently working on my second bottle. I would venture to say you all will be seeing a review of it in the near future.
A Call to Arms
I departed Twitter a few months ago. Twitter I always used more as a live news feed but did get to know many great people across various interests. What caused me to leave is Twitter's hypocrisy in dealing with members that expouse opinions they don't agree with. I've seen this sort of thing happen more and more over the last year to 18 months. While they have every right to do this, I also have a right to take my time and information elsewhere. So to Gab I have gone. And by and large, it's been a nice transition. One thing I find lacking however are any significant number of cigar smokers. So I am asking this audience to help me out: Let's grow the cigar community over at Gab. And I would be more than happy to assist in helping you get there. If you leave me an email address in the comment section or send me an email (jon at leafenthusiast dot com), I will invite you to Gab. I have lots of invites to give out, so I shouldn't run out anytime soon. If you are a proponent of free speech for everyone (even the folks you disagree with), then you might consider checking it out.
Thank you for taking time out of your day to read what I write. I always look forward to the next time I am able to share my thoughts with all of you.