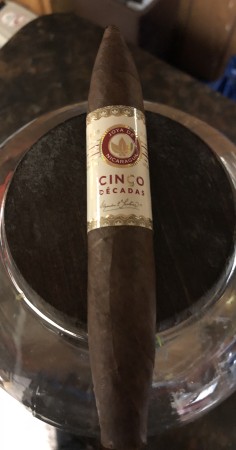 Cigar: Joya De Nicaragua Cinco Decades
Size: 6×54 (Diadema)
Wrapper: Unknown
Binder: Unknown
Filler: Unknown
MSRP/Price: $19.99 per cigar; $94.99 per five pack and $179.99 per box of 10 at Cigars International
Samples provided by Drew Estate, US Distributor of Joya De Nicaragua
In writing this, it feels like it's been awhile since I have written an actual cigar review. And in checking, that feeling was confirmed as it's been almost a month. I can say that the drought from my end is over, and this next cigar will be a 'welcome back' for everyone. Anytime anyone, whether it be a company or a couple, celebrates an anniversary of 50 years, it is something to recognize. To commemorate such a milestone for the company, Joya De Nicaragua crafted the Cinco Decades. To quote owner and chairman of Joya De Nicaragua, Dr. Alejandro Martínez Cuenca:
"Cinco Decadas is a Nicaraguan cigar of unparalleled elegance. This cigar is intended to celebrate a special moment in our company's history and offer an opportunity to pause, reflect, give thanks – and look to the future."
Let's find out if the cigar can hold up to this momentous event for their company.
No construction issues with the Diadema vitola I chose for review. The pre-light aromas coming from the cigar brought a light mix of faint leather and cooking spices while the draw brought flavors of dried fruit and wood upon the palette. The draw after the light was nicely balanced. The opening flavor notes were a mix of mild pepper on the front of the palette paired with mild wood on the aftertaste. I would consider the Cinco Decades to start at medium bodied in strength, noting that it's perhaps even a shade under that at the onset…but it definitely doesn't stay there. 20 minutes into smoking, the only change I noticed in the cigar was the gradual incline in strength. The wood and pepper flavors stayed as they are but they were beginning to become more prominent on the palette. 15 minutes after that, the pepper gave way to strong tastes of cooking spices and a heavier woody aftertaste. Nine minutes past the cooking spices is where the Cinco Decades really takes off. The strength shoots up right into the full bodied range, pushing the last 26 minutes of the cigar (all the way to the nub) with heavy wood notes. The final smoking time on the Joya De Nicaragua Cinco Decades was 1:20.
I have nothing negative to say about the Cinco Decades. It was a perfect citizen in terms of draw, light and build. My wife came home from a rehearsal and asked to try the cigar. After a few puffs, her eyes lit up and said:
"Wow…so much flavor. Lots of cooking spices on this…almost like some kind of bread. This cigar would pair so well with a steak."
If it wasn't approaching 11PM (and I actually had some steaks in the house), we might have tested that theory.
By-The-Numbers
Pre-light: 2/2
Construction: 2/2
Flavor: 4.5/5
Value: 1/1
Total: 9.5/10
To recap the Joya De Nicaragua Cinco Decades:
Excellent cigar. Loved the depth of strength and the variety of flavors. This cigar is worthy of its namesake.
The cigar's balance of strength and flavor combinations could allow it to be enjoyed by all ranges of cigar smoker.
The price may frighten some buyers away. With that being said, it is my opinion that the Cinco Decades is worth every penny it costs.
These are an instant purchase, should I ever see these in my local shops.
A huge thank you to Drew Estate and Joya De Nicaragua for the cigar samples and thank you very much for reading. I look forward to the next time I can share my thoughts with you.