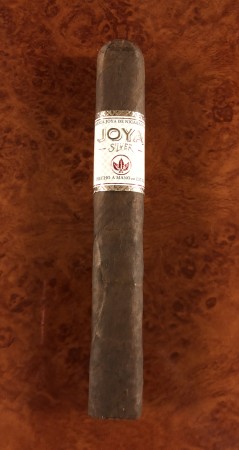 Cigar: Joya Silver
Size: 6×52 (Toro)
Wrapper: Ecuador Oscuro
Binder: Mexico
Filler: Nicaraguan
MSRP/Price: $7.80 per cigar
Samples provided by Drew Estate, US Distributor of Joya De Nicaragua
Joya De Nicaragua certainly knows how to celebrate 50 years in business. I detailed their newly released Cinco Decades to flying colors. To continue their big splash to mark 50 years, Joya De Nicaragua developed the Joya Silver as the newest addition to the Joya Line. Their General Manager, Mario Pérez, said in their press release:
"In the year of our 50th anniversary, we want to be recognized as a cigar factory that delivers the expected timeless quality of a Nicaraguan cigar, but that is also willing to evolve and take on new challenges. On top of creating a cigar for the Joya Line with a more complex flavor profile, we wanted to create a strong visual impact. Joya Silver's packaging is probably the edgiest in our portfolio, making it a smoke that shines."
It is a striking band that is sure to catch the attention of anyone's gaze and among the most elegant I've seen in a long time…but does the cigar keep up with the band? Let's find out.
No construction issues found on the cigar selected for review. I found the pre-light aromas to consist of a mild cedar while the cold draw brought similar woody notes on the palette. I opted for the straight guillotine cut and after the light was met an incredibly open draw and a ton of smoke on the exhale. The opening notes were a pleasant mix of black pepper, wood and something herb-like at the start, coupled with a medium bodied strength. Nothing was too strong or overpowering; the Joya Silver had a comfortable balance to it. Within the first 20 minutes or so, I noticed a slightly bitter aftertaste, like an unrefined chocolate (cacao). 32 minutes in, the herb-like notes began amping up on the palette while the others backed off (or in the case of the chocolate aftertaste – disappeared). The final 16 minutes was all wood notes with a slight increase in strength. The total smoking time of the Joya Silver was 1:09.
I encountered no issues with the Joya Silver. The lack of resistance on the draw was certainly notable but nothing I would take points off for. All in all, the Joya Silver lives up to its billing and should be welcomed among the Joya Line.
By-The-Numbers
Pre-light: 2/2
Construction: 2/2
Flavor: 4/5
Value: 1/1
Total: 9/10
To recap the Joya Silver:
A welcome addition to the Joya Line. Great balance of flavors and strength with modern, elegant band to help it stand out.
This cigar can be smoked by all levels of cigar smokers without any issues.
A good value for what you will be smoking. I like the price of this a lot and would select this over similarly priced cigars.
Like the Cinco Decades, I'll be keeping an eye out for these in my local shops and will pick up a few when found.
A huge thank you once again to Drew Estate and Joya De Nicargua for the cigar samples and thank you very much for reading. I look forward to the next time I can share my thoughts with you.