As quick as the year went, 2018 is now approaching its end. All in all, I would personally have good things to say about the year in general. And as is tradition, those of us who review like to reflect on what we have smoked this year. Like last year, I did not award a single Perfect 10 to any cigar, nor did any one cigar stand out to me as being 'The Cigar of the Year'. This year, I am going to name my three favorite cigars for 2018 as well as include a selection of cigars that would be honorable mentions. I'll finish things out with a few other pending items.
I used the following criteria to be mentioned in this selection:
The cigar has to have been reviewed by me during this calendar year (obviously).
All cigars from this list are rated 9/10 or higher.
Past scores do not guarantee overall end of year rating.
Honorable Mentions
The Entire Drew Estate Factory Smokes Line
I reviewed both the Maduro and the Sweet and loved both. In fact, I have smoked all four and have enjoyed every single one. If you haven't smoked any of this series yet and are a bit short on cash thanks to the holidays, give them a go. And the person who wins this years Pick'em League has the option to get one of these bundles too!
Nick & Jim P.B.E
This cigar, if you missed the review from January, could have been good enough to make last year's honorable mentions. Not this time. Search this one out if you are wanting a well-balanced medium to medium-to-full bodied cigar.
Debonaire Daybreak
One of the ultra premium cigars from Debonaire made the list. It's a very smooth smoking medium bodied smoke, one that caught the attention from my wife just on the aroma alone.
Favorite Cigars of 2018
Protocol K9 by Cubariqueno Cigars
This cigar stuck with me ever since I have smoked it and was one of the best full bodied smokes I have had this year. Not only that, it was made for a great cause. I really hope Cubariqueno Cigars to do another run of these because I would buy them in a heartbeat.
Joya De Nicaragua Cinco Decades
The Cinco Decades was a commemoration by Joya De Nicaragua for 50 years in business. The cigar represented this landmark achivement very well by being a complex yet balanced and elegant smoking cigar.
Villiger La Flor De Ynclan Lancero Especial
The #10 cigar in Cigar Aficionado Magazine last year got a special lancero release this year. That vitola change really brought out the strength and flavors from an already great cigar. This is another one that I wish for another limited release of.
Favorite Libation of 2018
Only one stood out among the few that I reviewed this year and to be honest, it wasn't much of a competition. The Laphroaig Cairdeas 2018. Having a jazz combo that is really into Laphroaig (among other single malt scotches), we have made a point to try this expression every year. This year is in my opinion how an Islay scotch should taste and should be checked out if you are into campfire and peat in your whiskey.
Pick'em 2018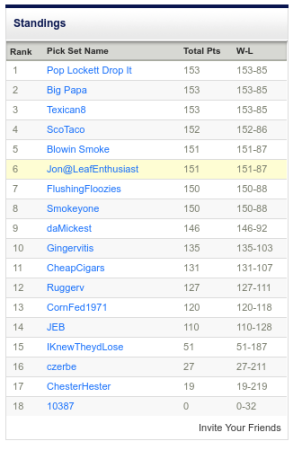 It's a tight race coming down to the last week, as you can see from the graphic above. The winner takes home one of the aforementioned Drew Estate Factory Smoke bundles or a five pack from site sponsor Small Batch Cigar, courtesy of yours truly. We'll see what happens.
If you have gotten this far, then you are sharing that time with the work I have done. Thank you so much for that opportunity. Please enjoy a safe and happy New Years in the coming days. See you in 2019.