Vitola: Robusto
5" x 52 ring gauge 
MSRP 8.75
Provided by manufacturer
Background
Keith and I have both previously reviewed some of the premium cigars offered in the last year or so by Cornelius & Anthony Cigars. To remind you…or just inform you if you hadn't heard of them before…Cornelius & Anthony is the cigar division of the Bailey family's 150-year-old tobacco company. The premium cigar part has only been around a year or so, so it's both a new and an old company.
Today I'll be looking at Meridian, the fourth release from the company after the Cornelius, Daddy Mac, and Venganza. Like the Daddy Mac and Venganza, Meridian is produced in Esteli, Nicaragua, at the La Zona factory. They make it in 4 sizes and ship in boxes of 20 stocks. It uses an Ecuadorian Rosado wrapper, a Nicaraguan binder, and fillers from Nicaragua and the Dominican Republic.
The term "meridian" is "any one of the lines that go from the North Pole to the South Pole on maps of the world." It's also a city in Mississippi, but I'm going to guess it has nothing to do with that since the inside of the box lid shows an octupus' arms extended from a raging sea holding sextant.
Cornelius & Anthony sent me two samples of Meridian for review purposes. This review is based on my second smoking of the blend.
Prelight
I understand the need to establish your branding in the early stages of a company, so the familiar-by-now C&A main band isn't what bothers me. That band definitely signals what company this is from, so if you already enjoyed Daddy Mac or Cornelius, you'll be more likely to try this one because it is familiar. And the secondary bands of all four blends are different enough to be fairly easily distinguished on the shelf. I just guess I would have preferred to see a little more variety in banding overall. Maybe a smaller representation of the tentacles and sextant would have been appropriate here.
The wrapper leaf was indeed oily and smooth to the touch, though it was a little darker to the eye than I expected for a rosado leaf. It was a medium brown in color, with just a touch of reds reflected in certain light. The wrapper had a strongly barnyard aroma to it…earth mixed with manure, wood, and hay. The foot had more cedar with earthiness in the background a little, and a rich hay note that I seem to associate with some LFD cigars.
After clipping the end, I took a test draw and found it excellent. The flavor was pungent and earthy, with some cedar mixed in.
Flavor
Lighting up the Meridian took a little patience. It was a mild, early spring day, but with just enough breeze to make my single flame torch height and direction unpredictable. Once I got it going, though, I got a light grassy flavor overlaying an earthier core with cedar and river-rock mineraly notes coming into play at times. There was a burn on the nose, but it was hard to call it "pepper" because it wasn't like black or red pepper, or any chili pepper I've experienced. I'm tempted to say it was more like mint or menthol, because it seemed to be cool and hot at the same time…although it didn't really give me a minty flavor.
As I finished up the first third and headed into the second third, that elusive hot and cold flavor resolved itself into more of a citrus note, primarily lemony, though more sweetness than sourness. Like I said, a hard flavor to quantify. I still got grassy notes strongly in the profile, while earth and cedar took a definite back seat.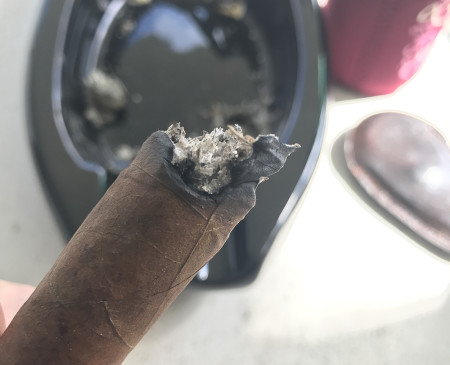 In the last third, the citrus flavor increased even more. I don't think I've ever gotten this much citrus from a Nicaraguan-based blend ever; the closest being the Laranja, another Espinosa/La Zona product. There was a slight return of cedar in the mix, too, but earth and pepper were just an afterthought.
Construction
From almost the first couple minutes, the wrapper didn't want to burn straight. I had to make fairly extensive touch-ups to it several times. The ash was also quite flaky and I had to keep brushing it off my shirt, my pants, my iPad. The draw was great, though.
Value
Good price and very good cigar equals good value.
Conclusions
The Meridian is my favorite thing yet from the Cornelius and Anthony line, mostly because it's unique and interesting with its fairly consistent delivery of citrus flavors. That being said, it wasn't the most complex of smokes, staying basically with a citrus-based flavor profile most of the time. The price is right in the "sweet spot," though, so it's something I would consider picking up from time to time.
By-The-Numbers
Prelight: 2/2
Construction: 1.5/2
Flavor: 4/5
Value: 1/1
Total: 8.5/10