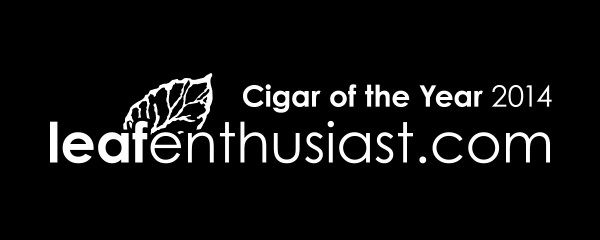 I'm finishing up this article on the last Sunday of the year and the first day I've been able to smoke outside since last Wednesday. Christmas week was a little rough for me…I started feeling sick on Sunday night and by Tuesday evening it was a full-blown head and chest cold, complete with days of incessant sneezing, racking coughs, head congestion that wouldn't let me sleep more than an hour at a time, fever, chills…the whole nine yards. I continued to try smoking a couple of the days in the week, but the reality is I mostly just didn't feel like it. By the time I got to Saturday morning, the worst was over, which was good because it was my shift at Burns…a 13 hour day. Keith was getting over a bout with something similar as I was starting mine…so our publication schedule got a little wonky.
2014 was an excellent year for cigars. There were a number of "really good" to "excellent" blends hitting the shelves, along with an ever-increasing variety of marketing tactics among the every-expanding collection of boutique companies. Maybe they were all trying to get something going before the FDA brings down the hammer on the industry at some future point…or maybe just show a little something to attract a buyout offer from General or Altadis, who are probably going to be virtually immune from whatever regulations get enacted simply because of their size and pocketbooks. Impossible to say at this point.
If I chose Cigar of the Year based on what I smoked the most, it would end up being the Tatuaje Noellas Reserva. I've been through about two boxes in the past year and I'm smoking one as I write these words. The combination of flavor, smoking time, and price hits me just about perfectly any time of the year and the Noellas Reserva seems destined to be a go-to cigar for me for as long as Pete Johnson decides to make it. However, it didn't get reviewed in 2014 (it was a contender for 2013 COTY, though).
The Rules
I struggle every year with coming up with the right criteria to declare something as my "Cigar of the Year." At first I wouldn't include anything that was Limited Edition or discontinued because I thought it wasn't fair to recommend to people a cigar they couldn't get their hands on. I eventually changed my mind on that and I have identified 4 sticks in this year's contenders that are truly limited releases. There are other things I have wavered or changed my mind on, too, but in the interest of being up-front, here is how I made my decision for 2014…
Any cigar I published a full review on and awarded a 10/10 in points, or a 5/5 in the "Flavor" category is eligible.
The cigar has to be available for me to smoke again when writing about it to be considered. Sometimes I have saved samples because I knew they might be hard to come by later on; with most I bought new samples.
Factors besides the original review will definitely come into play. If I've smoked several over the course of time since the review, I may have formed a different opinion of them…maybe coming to like them better, maybe coming to get tired of them.
Because some cigars don't perform their best early in release and may get less than a 10/10 in a full review, I will always reserve the right to throw "wild cards" into the mix.
Only cigars reviewed by me in the 2014 calendar year are eligible, regardless of when they actually were released (because I tend to concentrate my reviews on newer releases, though, this will mean most contenders were released in the last 18 months).
I am including some "Honorable Mentions" that didn't make the cut as Contenders, but still made an impression on me.
Interesting facts in the below list:
Out of 12 cigars I chose to talk about (Honorable Mentions and Contenders), 5 came from the My Father factories. After more than a decade, the Garcia family is still at the top of the game.
My Father, Tatuaje, and Camacho all had 2 blends each in the "Contenders" category.
Taking out the 5 from My Father and 2 from Camacho, you are left with 4 blends from companies that have been around less than 7 years: Nomad, Guayacan, La Barba, and La Palina. The other is from GTO, a regional company known mostly in the Deep South, but with family roots in the industry that go back decades.
HONORABLE MENTIONS

C-276 by Nomad Cigars
This cigar didn't score high enough to be eligible for #COTY, but I thought it worthy of an honorable mention for a couple reasons.
First, it represents the logical progression of Fred Rewey's nomadic journey through tobacco-land. He lands here on the shores of Nicaragua and produces a full-bodied, full-flavored smoke that should have surprised everyone familiar with the Nomad brand previously. When I saw Fred earlier this year I asked him what he would do for a follow-up and he replied, "I got nothing!" Is this the conclusion of one man's wandering? Eh, I wouldn't bet on it.
Second, he actually sent 3 packs of cigars out "For Your Consideration" for #COTY…eyes on the prize! Maybe it's the Cigar Weasel in me, but next year anyone who sends out "FYC" packs will get a mention, even if the cigars truly suck!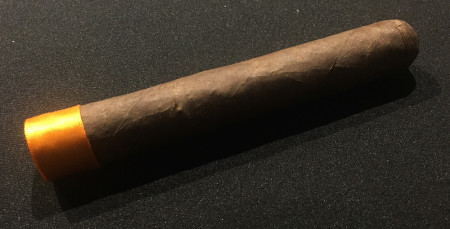 I asked Jon Huber a year or two ago if he would do something in a Broadleaf wrapper. He told me that Ernesto Perez-Carrillo was basically using all of the Broadleaf that came into his factory for his own EPC lines. I asked earlier this year again, now that Crowned Heads was working with My Father for some lines…and the answer was definitely non-committal, but that's just the way Jon seems to work…being cagey, playing his cards close to the vest, and not letting information slip out before it's time. When it came time to finally get a Broadleaf-wrapped Crowned Heads cigar, he made it worth while, though: made by My Father and only available to retailers within the state of Tennessee. Well played!
Tennessee Waltz uses Nicaraguan fillers and binder, which makes it similar to Tatuaje's Reservas releases in many ways, but definitely different enough to justify existence. This blend is not as peppery as most of Pete's Reservas, but has a great medium-to-full body with a very nice amount of complexity and balance. Both Keith and the Hippie published reviews of the Tennessee Waltz before I had a chance to get to it (and Keith ended up naming it his Cigar of the Year), so that disqualified it from contending for my Cigar of the Year…but I very well may review it next year…or make sure I get first dibs on reviewing the 2014 release. Great tribute to Jon Huber's grandparents and to the Volunteer State.

I got to make Oscar Rodriguez's acquaintance a little over a year ago. GTO Cigars is based in Alabama and were part of the 2013 Chattanooga Tweet-Up. Before the 2014 event came around, the local shop had picked up Oscar's blends, really based on the strength of his new releases wearing the Pain Killer badge. The Maduro is available in 2 sizes and both are very nice, but my favorite is this Corojo wrapped version. It not only is my favorite GTO blend, but one of my favorite Dominican blends and really deserving of a special mention here. If you love some Dominican Corojo leaf for a solidly reasonable price tag, you need look no further.
CONTENDERS (Alphabetically)
La Antiguedad by My Father Cigars, Corona Gorda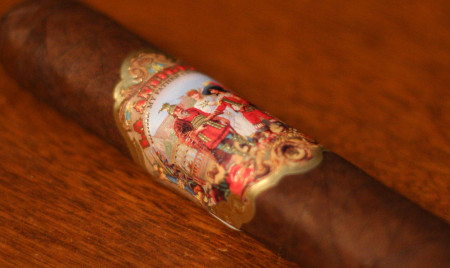 My Father followed up Flor de las Antilles with this 2014 release. They are part of a loose series based on old Cuban brands that My Father has revived with the original artwork intact. This uses fillers and binders all sourced at My Father farms in Nicaragua and an Ecuadorian Habano Rosado wrapper.
This is one of those cigars I point to as a great example of packaging…it's literally artwork! It gets the buyer's attention and begs to be picked up.  The execution of the art is great, too, with the use of heavy-weight textured paper and tasteful, but plentiful, gold foil and embossing. It has a rich look wrapped around an equally rich-smelling wrapper leaf.
From the sweet prelight flavor to the robust notes of earth, cedar, coffee and cocoa powder thrown out initially, to the searing peppery retrohale…this is a great example of a Nicaraguan-based blend and a great example of some of the best characteristics of My Father blends. Antiguedad is simply an excellent blend and probably my favorite to have the My Father name attached to it since the original Don Pepin Garcia Blue Label.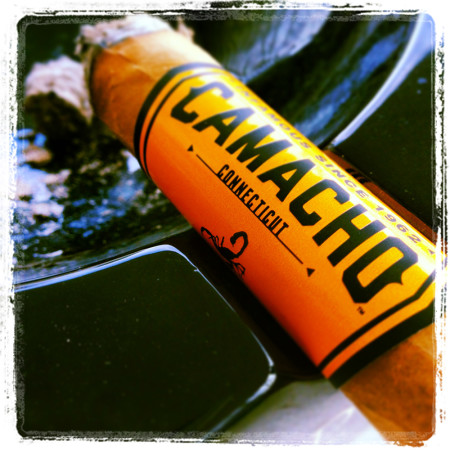 Now days, it's unusual when a new Connecticut Shade wrapped cigar hits the shelves with the intention of being "truly mild." To put it a different way…almost every Conny out there is now a "mild-to-medium" bodied blend, and it almost seems like it's always been that way. But it was just a few short years ago that the Camacho Connecticut first hit the market…2009, if I'm not mistaken. It was, and is, a game-changer.
The Camacho Connecticut was really the first "next generation" Connecticut, combining a smooth, creamy and sweet Shade leaf with ballsy fillers and binder (Honduran Corojo for instance, in this case). The effect can be a "milder-mannered" Camacho, but it might be a shock to folks who are used to their parent company's Davidoff White Label line. Combine with a price that is at the low end of the sweet spot for the market and you have a winner on multiple levels.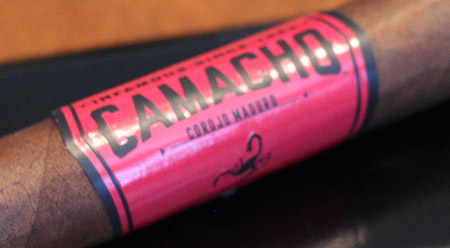 After being one of my first named contenders for Cigar of the Year this year, the Camacho Corojo Maduro kind of dropped off the radar for me. Really, it was just a matter of too much going on. Too much work on too many days and certainly too many other cigars vying for my attention. When I knew I had to get to this again for year-end, I was excited.
This is a Honduran puro…a Honduran Corojo puro, for that matter, with the wrapper being Maduro. In comparing this with the regular Camacho Corojo, I found this to be more complex. Where the Corojo is almost all about the fiery pepper spice, the Corojo Maduro has pepper spice, but a lot less. It replaces the fire with notes of dark chocolate, wood, earth and grilled meat.
Some have criticized the Camacho makeover, but it's grown on me. The cigar lines are clearly delineated by color, but all have a immediate recognizability and the look is definitely unique on the cigar shop's shelves.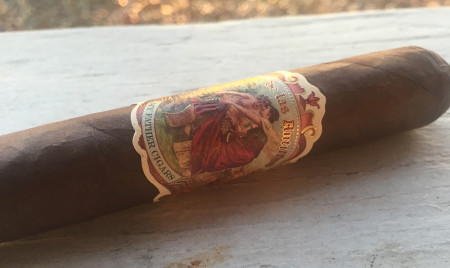 When the Flor de las Antillas won the big award from that "lifestyle" publication a few years back, I'll admit I didn't get it. I had smoked a few of them and found them "good" but not "great" and certainly not "COTY" material. But that's why they make so many different blends…not all of us will like the same thing. Late 2013 saw the arrival of something new and different, though…and all it took was a different vitola.
The MAM-13 is a Corona Gorda sized cigar, departing from the other FdlA sizes in that it is not box-pressed. 5 stores in the Mid-Atlantic region (the MAM stands for "Mid-Atlantic Mafia") got 100 boxes of 20 each…a total of 500 boxes of this vitola were made.  This Nicaraguan puro with the Sungrown wrapper has a ring gauge smaller than anything in the regular FdlA production line, which I think may have something to do with why it tastes better to me than any of the others. Lighting up, you are greeted by a great balance of wood and earth, along with just a touch of dried fruit sweetness and a hint of the pepper spice that the Garcias' cigars have been so well known for.
I can't step away from Flor de las Antillas without noting its banding, which (like the Sabor de Estelí and La Antiguedad) is a true work of art. Beautiful. Timeless. Classic.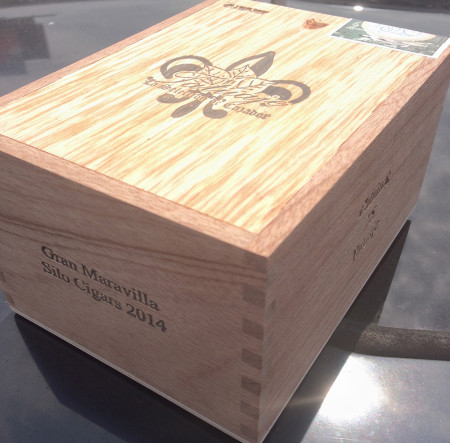 A decade or so ago, Pete Johnson started his habit of single-shop exclusives with a release called "Maravilla" for a little Knoxville shop called Leaf and Ale. Since then, the limited release bandwagon has really taken hold of the industry, but that little shop in Knoxville closed. So when Pete agreed to do a "10 year anniversary" release of his initial LE, he had to talk to someone else…which happened to be Paul Warner, owner of Silo Cigars, just a few miles up the same street from where Leaf and Ale used to be. Loathe to exactly repeat himself, Pete made the Maravilla longer than before and added "Gran" before the name.
A spinoff of the Brown Label from Tatuaje, the Gran Maravilla is an excellent full-bodied, full-strength and full-flavor Nicaraguan stick from the My Father factory. The first few I had were among the best Tats I've every smoked. The one I burned for this retrospective was not quite as great, but that could a function of the aging process, where cigars enter a sort of "sick period."
It was enough of a dip in experience that I couldn't name it "Cigar of the Year" for 2014, but based on early smokings of these and aged smoking of the original Maravilla, I have faith that in two or three years, these sticks won't be just "great" but "spectacular." Massive aging potential with these…and I understand Silo still has some boxes left if you missed out on the initial rush.
Red by La Barba, Petite Lancero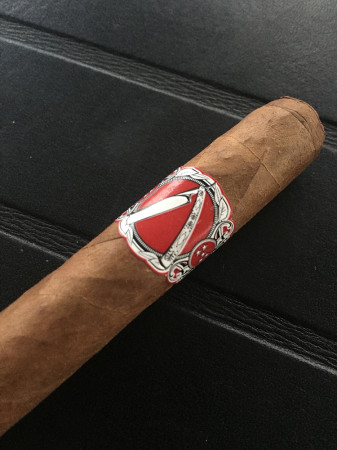 La Barba wasn't new in 2014, but they were "new to me" as I had not heard of them previously. The Red Petite Lancero is the blend and vitola that caught my attention, with its band artwork of a straight razor. The smoking experience is pretty cutting, too, with lots of cedar, red pepper and sweeter notes coming through at the beginning, and more cinnamon notes making their way out at the end.
At a time when I had almost given up on Honduran-heavy blends this is the third one in the year that received a 10/10 and made this list. All of them owe much to the Eiroa family's farms and Corojo leaf, although this one had some Nicaraguan Habano and Pele de oro in the mix as well. This is an excellent cigar that is easy to recommend but a little hard to find at this point.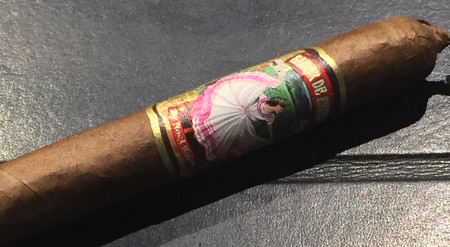 From day one, Noel Rojas has been no industry slacker. His first release—Guayacan—became the name of his company and one of the top "freshman" releases in recent memory. On the strength of that blend, he was able to team up with House of Emilio, get a factory built, then start churning out new blends for Emilio, Tarazona, and himself. One of the finest is this Sabor de Estelí, released this year in Habano and Maduro wrappers, but only the Habano wrapped version came in this Lonsdale vitola, which is just magical.
It starts off with some pepper and cedar along with a subtle sweetness, all wrapped up in solid Nicaraguan earthiness. As I smoked along, I got notes of roasted nuts and a touch of black coffee in the mix.
Did I mention the packaging? Even though relatively new to the industry, Noel has managed to get some great artists and designers working for him. The image of the lady dancing in front of the tobacco field is stunning, with her dress flowing out like a flower. Look at the details, though, of embossing in the dress, and the delicate lines of metallic gold ink…his bands are up there with some Fuente and Ashton designs.
RUNNER-UP
One cigar stood apart from the other contenders and for the longest time I believed it would end up being my choice for Cigar of the Year, but it got nudged out of the way at the last minute…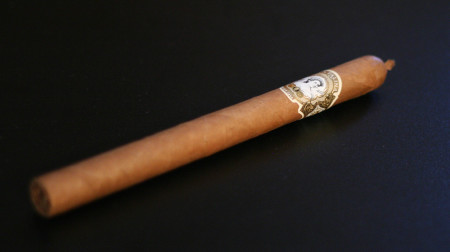 When the first "Goldie" vitola came out in 2012, I was skeptical, but after smoking it, I was impressed. The second one (#5, released in 2013) wasn't quite as good for me, although I'm told it's smoking really fine right now, so I may have revisit it. But this year's release, the Laguito Especial…a Lancero, really just floored me. You can against color me skeptical when I saw the $17.50 asking price, but when I smoked one, I was a believer once again.
The Goldie line uses fillers from Nicaragua and the Dominican Republic, an Ecuadorian binder and Ecuadorian Habano wrapper that seems to be the color of straw spun into gold…seriously, it looks more like a Shade leaf. It also uses "Medio Tiempo" leaf, which is only found on 10% of tobacco plants and all the cigars in the line are made by Maria Sierra, a Cuban roller who trained under some of the best before escaping the Castro Brothers' Island Prison.
Since the few times I initially smoked this cigar, I have recommended it to several customers when I've worked at Burns. I think all who have tried it have enjoyed it…one guy came back and bought a box of 10. That's something I need to get around to, as well. I called these "very likely the best thing I've ever had from La Palina or Titan de Bronze" (the Miami factory where they are rolled) and I stick by that. Truly, this is a gem.
THERE CAN BE ONLY ONE
And my selection for 2014 Cigar of the Year is…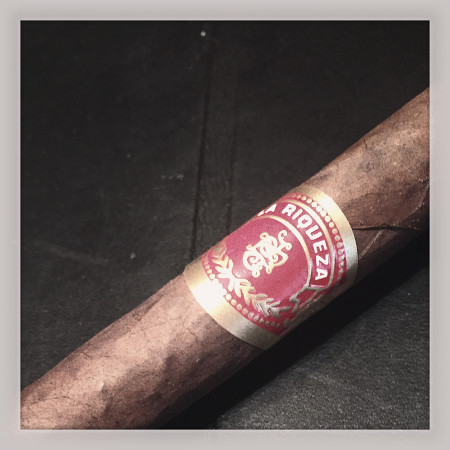 I found the La Riqueza Lancero late in the year, after missing its initial release in the Tatuaje Lancero Sampler. While I've had La Riqueza before, and at times found it wonderful, it never resonated with me like this one. The mix of rich Nicaraguan fillers and binder, along with the sweet earthiness of the Connecticut Broadleaf wrapper—enhanced here because of the ring gauge—makes for an experience that might not be the most unique (all the My Father Broadleaf blend share some characteristics), but it is by far the best, in my not-so-humble opinion.
I get lots of semi-sweet chocolate notes at first, along with a healthy dose of red pepper and more minor notes of earth and cedar. It's full-bodied without being overpowering. In smoking 4 or 5 sticks I've had no construction issues to speak of.
This is the second year in a row that I've named a Lancero as my #COTY…although I still maintain that overall Coronas are my go-to vitola. Sadly Lanceros are still very much a niche size with many of them being limited production runs and sales being somewhat pitiful in the many shops (I'm counting the one I work in plus a few others where I've discussed it with the owners…Lanceros just don't sell that well in any of them). To which I say: you people don't know what you're missing if you keep passing Lanceros by…the flavor is just so much better than the 60 and 70 ring gauge sticks that dominate sales so much of the time.
Keith and Jon already published their round-up of favorite cigars of 2014. If you haven't read them yet, please check them out.
Hope you've enjoyed another year with the Tiki Bar / Leaf Enthusiast crew…we have another one locked, loaded and coming your way very soon.
In today's comments, I'd love to hear from you…our faithful readers…what was YOUR Cigar of the Year?